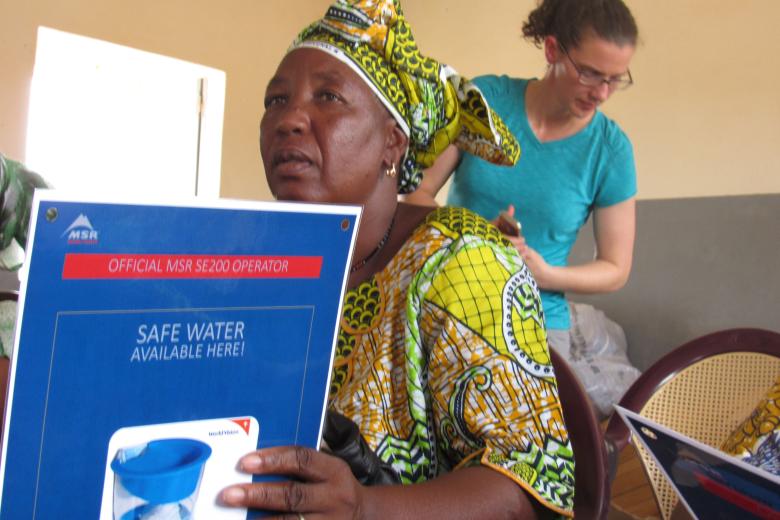 Chlorine to stop water contamination
Wednesday, June 10, 2015
In Mali rural areas, clean water fetched from the water point can be unclean to the consumption because there is 95% of chance to be contaminated during the transport and/or during its conservation. In order to address that issue, World Vision US in collaboration with MSR Global Health initiated an innovation called SE200 chlorine maker to assure the treatment of water gathered, once it has been transported and conserved. The device allows preparing a salted solution (chlorine), which serves to keep water safe during 48 hours and then contributes to reduce the contaminated water related diseases among children.
The active contribution of World Vision to the device conception level was to make sure that it is adaptable and easy to use by rural communities especially regarding the size of the equipment. Likewise, the role of MSR has been to manufacture the entire equipment and train World Vision trainers and community operators to its utilization. 
Laura McLaughlin, MSR Director of Globlal Health, visiting Mali, facilitated the implementation of the pilot phase of the plan in 2 ADP and achieved the training of 25 trainers and operators for an appropriate utilization of the device.  Mr. Diop the president of the Healthcare Centre Association in Dio-Gare, one of the beneficiaries of the training praise the importance of such tool: « this training is really good for everybody, in healthcare centers, in our families as well as in our schools, because there is a real need to secure water of common containers. We must purify and decontaminate sometimes to time the water we keep because children can get sick in drinking water from uncovered water containers. This product really meets our need ». 
The pilot phase will allow to determine the most appropriate way of using the device in the programs of World Vision like in healthcare centers, schools or water points' sources and to identify also where the device operate better and why. 
Mali has been the first country in West Africa to benefit this innovation. The huge number and the quality of water project installations combined to the different trainings offered to the populations are the reason to affirm that communities overflow with capacities which will make easy the appropriate utilization of the chlorine.
The outcomes learned from this experimental stage will serve to drive it better and to replicate the project in other countries of the region. This first phase will continue until July and will be following by the distribution of 60 devices in several programs in order to increase the impact of this new way of doing.