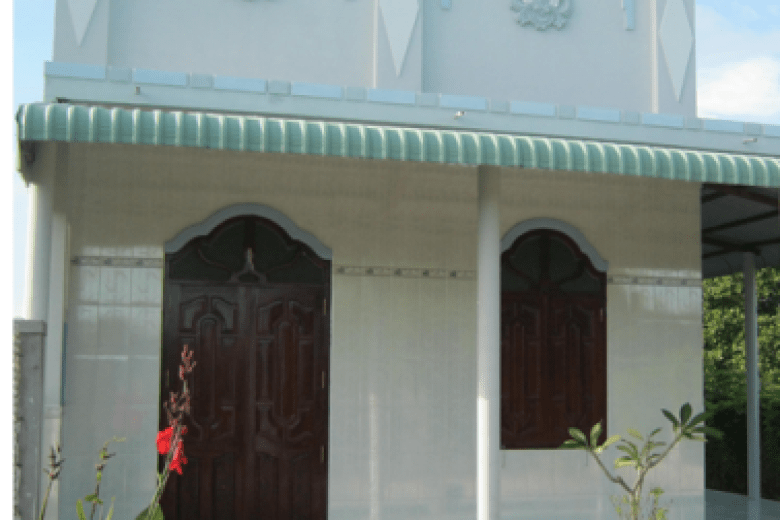 A Coat Never Worn
Friday, February 27, 2015
Nguyen Thi Hang – Teacher, Song Binh Secondary School, ... district
The garden surrounding Lan's new house cools every visitor to the white-walled building. But home hasn't always been so welcoming for the mother and her family.
 "We didn't have a real house. We lived in a cramped, tin-roofed shack with coconut-leaf walls," recalls mother of four Ton Thi Cam Lan. "It was really hot in summer and at night we couldn't sleep properly because bits of the roof kept falling on us."
"We didn't have any farmland, money or skills to earn money and my husband and I were really struggling to raise our kids," she continues. "We went everywhere in the district looking for work, but never earned enough to survive."
 A New Start
Lan has kept his son's coat that was given by his sponsor as a special souvenir.
With no end to their poverty in sight, Lan felt stuck until World Vision began a project to boost the livelihoods of poor households in the village, through which the family received bean seeds and fertiliser.
 With means of production, Lan planted the seeds in the small piece of land in front her ramshackle home, with her first crop raking in a startling 10 million dong (470 US dollars).
 Investing the windfall in the next harvest, Lan and her husband have since worked hard for four years for the funds to build a new concrete house and transform the family's living conditions, with all four children now either in work or school.
 In fact, so financially comfortable do the couple now feel that they have decided to donate a 2,000-square-metre piece of land to the local government for a new kindergarten.
 "We were very poor and our lives were miserable until World Vision showed us a better path," says Lan, "so now it's time for us to do something for others."
 Holding up a pristine child's jacket, the mother adds: "This is a gift my son's sponsor sent to him five years ago when he was in World Vision's child sponsorship programme.
"He never wore it because he wanted to keep it as a memento. And it reminds all of us why we have the life we do today."