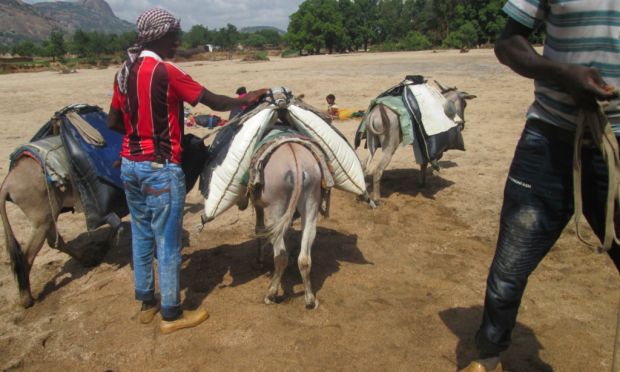 Last year, as part of the Chad WASH Project and with funding from WV United States($500.000), World Vision Chad constructed 3-compartment latrines in three health centers. Using the same funds we are building three boreholes in these health centers to help combat water-borne diseases. However, the base of all these other intervention is a World Vision Supplementary Feeding Program which has been going on for a couple of years. Thus with food and some funds from WFP, match funding from Canada and UK and special WASH funding from the US, we are able to approach food security in a more holistic manner. The Wash project plans to reach34,273 direct beneficiaries by end of the current fiscal year.

The feeding program is a strategic intervention in the Guera region. It is estimated that the age group of children aged 6 to 59 months suffering from moderate acute malnutrition is 7045 persons in the region. Through the Supplementary Feeding Project launched in June this year, World Vision Chad will distribute nutritional inputs (Super Cereals +, Corn Soy Blend (CSB), Vegetable Oil, etc.) provided by the World Food Program (WFP). Beneficiaries to be targeted under this program are Moderate Acute Malnourished (MAM) children aged 6-59 months, pregnant women, and nursing mothers suffering from malnutrition in 17 health centers and 5 mobile centers.
It is important to note that this zone of intervention is located in the north of Chad, where due to its rocky nature, the water table is quite hard to reach. To get water one has to look for fractures in the basement to position a borehole, and thus the water is quite rare. People travel several kilometers to collect rain water, or from ponds, and sell them to the general population. A 20L non-portable water can costs 200f (about US $ 4 Cents) in the dry season, and 100f (US $ 2 Cents) during the rainy season. Access to potable water significantly undermines our contribution in health, nutrition and food security in the region. With funding from WV United States, we plan to increase drinking water supply to improve well-being of children and mothers, strengthen sanitation in the region and support effort to consolidate food security in the region. Similarly, water access in the health centers will also be used to support vegetable gardens within the centers.