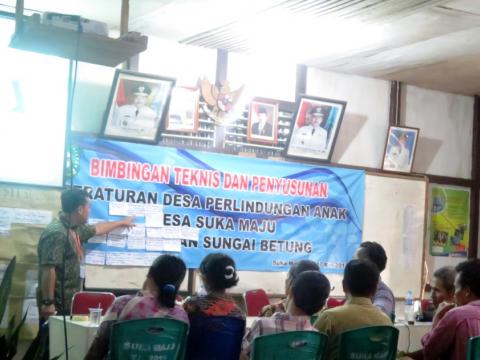 Community-Based Integrated Child Protection Program Supports Child-Friendly Village
Wednesday, December 13, 2017
It is not easy to create Child-Friendly Village in Indonesia. However, the cooperation between several parties could make it happen in some areas of Indonesia. One of them can be found at Suka Maju Village, Bengkayang, West Kalimantan.  
The villagers of Suka Maju Village committed to declaring the village as Child-Friendly Village in 2014. It started when the villagers decided to involved in Community Based Integrated Child Protection (PATBM) program.  
By the support of Wahana Visi Indonesia (WVI), the program which was launched by Ministry of Women Empowerment and Child Protection can be done in Suka Maju Village. Even though the local government had to struggle, the Child-Friendly Village can be realized.  
Markas (58 years old) as a Head of Suka Maju Village said, WVI has been supporting the villagers, so that the program can be done in his village.  
"WVI is always waking me up. WVI always be my reminder of sanitation program, Child-Friendly Village and also the birth certificate as the newest issue," said him.  
With his spirit, Markas succeed to bring his village as the first village which brings Child Forum  in village conference. And, the impact is that the development of Child-Friendly Library is in progress this year.
Written by Rini Setyowati, Child Ministry Coordinator AP Bengkayang Wahana Visi Indonesia