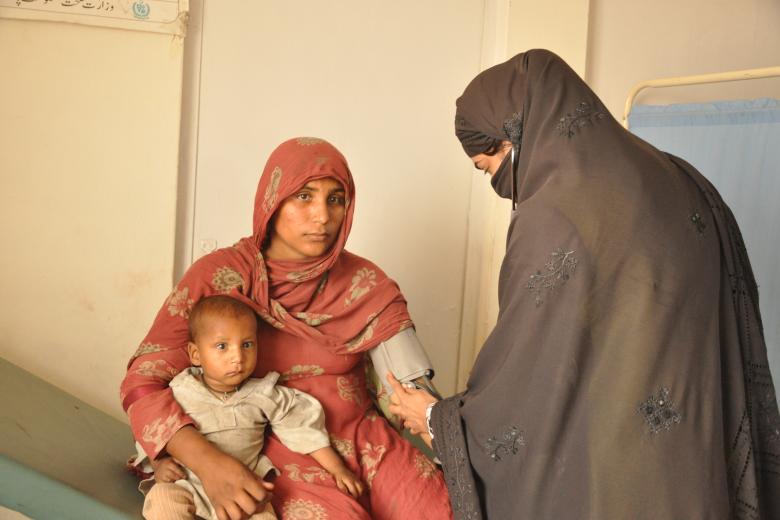 Community gains access to labour room through advocacy
Wednesday, June 19, 2013
Fifteen years ago, Ahmad's Aunt faced severe complication during her third child's birth. A traditional birth attendant (TBA) tried to save her life, as well as the life of her baby. They failed on both accounts. 
While burying his aunt, with a lot of sorrow, he promised her soul to work for the betterment of maternal health. For more than a decade, his efforts were fruitless. Finally, last year, he began to see the results of his hard work.
Ahmad, 35, lives in Khokhar village of the Muzaffargarh district with his wife and six children. Khokhar village is among those villages where most people are deprived of basic facilities, like clean drinking water, easily accessible roads, and a health centre (the nearest health centre was almost 8 km away) etc.
Since his childhood, Ahmad has struggled to get ahead and bring change to his community.  He is one of the few individuals in his village with more than primary education. After finishing high school, he decided to adopt a medical profession. Due to lack of financial resources to study at the university, he joined a paramedic school. Although he was educated, his training was hard to put into practice with a shortage of jobs in his community. When he wasn't able to work in his field, he opted to work on his land as a means of supporting himself and his family.
But, he never forgot about his aunt and the promise he had made to himself and her soul.  "After the death of my aunt, it was my dream to work for my community, so that no more casualties occur due to complications during delivery. But, unfortunately, there was no such forum at our village."
Change on the horizon
Then World Vision started a Maternal Newborn & Child Health (MNCH) project in order to raise the awareness of the local community about child and maternal health issues, focusing especially on: antenatal and postnatal care, safe deliveries, birth spacing, danger signs in pregnancy, as well as infant and childhood diseases.
One of the major components of the MNCH program is the establishment of a strong and early referral system at the community level. Another important element was the formation of local support groups in each of the hamlets to involve local people in the process, help them understand the problems and solutions from the grassroots level which not only helps the immediate success but also ensures long term sustainability.
Ahmad was elected president of the local support group in his village.
"When [the] MNCH team visited our village and shared the purpose of project, I became very happy as I was feeling my dream is being fulfilled," Ahmad says
Ahmad worked proactively in his village and mobilized his friends to advocate for safe delivery at hospital instead of the use traditional birthing attendants.
Then the MNCH staff organized a training session on Citizen Voice and Action during March 20 12 to support and equip group members. Representatives from the local support organizations were also invited to participate in the session. Ahmad was among the participants and learned how to do advocacy at the local level. After the training, all members replicated the training sessions in their respective villages.
According to Dr. Ayesha Rai, Health and Nutrition Coordinator for World Vision Pakistan, "initially, [the] MNCH team started training for support group members and other volunteers in program areas. Then, Community Voice and Action forums were formed to prioritize issues at [the] local level. [These] forums generated action plans to find solutions to their problems. Moreover, women and men are continuously being educated on Antenatal and postnatal care, birth spacing and child diseases to create awareness."
In Ahmad's village, the community members decided to prioritize health issues and discussed a permanent solution. Because of World Vision's work, they were already familiar with the importance of maternal and child health as well as the government's policy. As a result, the decided to request a meeting with government health staff. 
At a meeting held with the District Health Officer, at his office, 25 community members requested the government establish a labour and delivery room at the Dewala basic health unit. The district health officer initially regretted the request due to lack of budget for staff.
After few days, another meeting was held with government staff and the local people again a labour room. This time they also showed some data about their village and explained the reason why the labour room is necessary.
Planting the seeds of change
After multiple meetings, the health officials realized the importance of the need and agreed to establish a labour room at the basic health unit staffed by a lady health visitor and a midwife. 
"When government officials announced good news of the labour room at the basic health unit, tears of happiness came in my eyes. My dream of safe deliveries at [a] hospital came true." says Ahmad.
To date, the government has provided basic equipment, including delivery kits, surgical instruments at a Labour and delivery room at the Dewala basic health unit which is properly functional.
"I appreciate World Vision's efforts to help vulnerable families of this village," says Dr. Younis
"I appreciate World Vision's efforts to help vulnerable families of this village," says Dr. Younis,who has been working as a Medical Officer at the basic health unit since 2011. "Now people are aware about their rights and they know the importance of safe delivery as well as antenatal and postnatal checkups."
Currently, between 20 and 25 babies are delivered each month. Additionally, 80 women are seen for antenatal checkups. Due to proper treatment and awareness, more than 1,000 patients have been registered. Basic medicines are also available. Most important to mention, however, is that people are coming at for consultation about birth spacing.  
"Now people know very well about their rights," says Dr. Younis, noting that there is still more work to be done. "An ultrasound machine and an ambulance are also needed for this basic health unit," he adds. "I hope we will succeed to get [these] very soon."
Sughra Bibi, 36, a resident of Khokhar recently delivered her 4th baby in the labour room. She has participated in an awareness session organized by support group member in her village. Being aware about the importance of mother and child health, she decided to visit the health unit for Antenatal checkups.
"I visited [the] hospital [for the] first time because [the] lady health worker told me importance of safe delivery. My other babies were born at home through traditional birth attendants," she says.
"In the start, women felt some hesitation to visit hospital due to misconception," says Ms. Arsalna, a lady health visitor. "But now they trust us. They happily visit labour room for regularly checkups."
World Vision is providing assistance to vulnerable families through: health, education, water, sanitation and Hygiene (WASH) interventions as well Disaster Risk Reduction (DRR) efforts in various villages, all of World Vision's efforts focus on providing maximum support for child wellbeing.
Note: According to a report published by UNICEF, Maternal Mortality Ratio in rural areas of Pakistan is 319 per 100,000. Overall, one in every 89 Pakistani women will die due to causes related to childbirth.