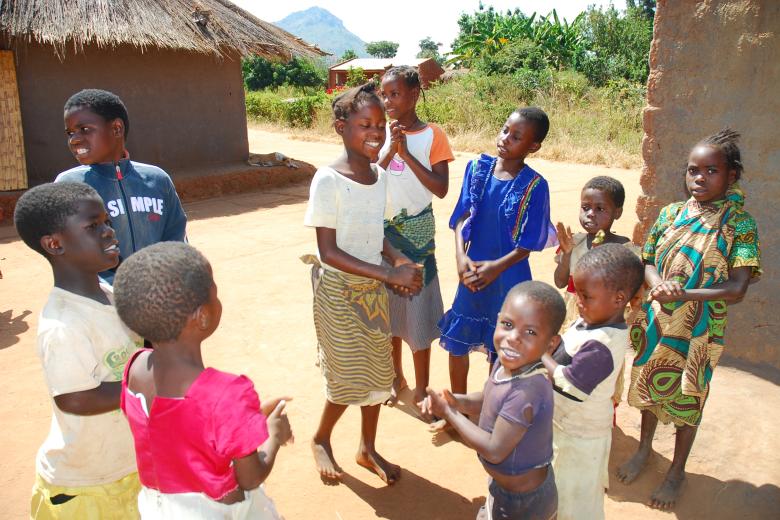 The days when we felt unsafe are over now
Wednesday, February 17, 2016
By Antonio Massipa

This is Angónia district, central Mozambique. 12-year-old Ndawona Luis, who is doing grade 3, is happy because she can now sleep safely in a house built by a Health Committee set up and trained by World Vision.
After losing her mother to an unknown disease, Ndawona and his five siblings slept for almost 9 years in a mud hut covered with dry grass. This house had no door and was falling apart. And these children were highly exposed to danger. It's a Friday morning and the sky is blue. A group of about 10 children form a circle.
They lift their hands up and clap and sing as one child dances inside the circle. They giggle and their faces shine. Their smiles and happiness have a name – a new house has just been built for Ndawona and her siblings Blandina Luis,18,Konduane, 16, Jacinta, 10, Brigida, six and Merenia, four. It's a two-compartment house.
Although it also made of mud and covered with grass, it offers comfort to this young family. Unlike the old one this has got a door and a lock.
The house not only provides shelter for the children, but it also renews hope for a brighter future in which Ndawona can see her dream of being a teacher accomplished. Back in the past the two-and-half-meter-diameter hut these children slept in was falling apart. It was uncomfortable and unsafe six children to sleep in.
  "There was no way we could sleep peacefully imagining that something bad could happen to us while we were sleeping as there was no door to keep us protected from danger. Most nights we slept afraid that someone would come in and do us harm," Ndawona says.
 "Sometimes dogs would come in while we were sleeping or while we were away and eat the little food that we so hard strove to find.
 The ceiling was also degraded in such a way that when it rained water came in and we all had to wake up and stand. This took place only a few months after their mother, Angelina Tcholela, died in 2004 and their father abandoned them and went back to his home country, Malawi, leaving them to their own fate.
 Blandina and Konduane were forced to leave their community and head to the village in order to find work and provide for the family. In the village, when they stay for more than a week, the do casual work and only come back home now and then when they have managed to get food for the family. Meanwhile Ndawona take leadership of the family at home and provides and cares for the family.
 "I wake early in the morning, fetch water, clean the house and go to school at 7 a.m. When I come back from school I do some casual work in the neighboring houses and they give food, which I cook with my sisters," explains Ndawona.
  "We usually eat maize porridge and vegetables. Sometimes we eat rice and fish," she adds. We were deeply moved realizing the children's situation, the local Health Committee decided to use its own funds to build a house in order to provide safety and comfort the Ndawona and her siblings.
 "We were deeply moved by the suffering these children endured and we decided to help. Now we are happy to see them smile," says Marta, a member of the Health Committee.
The committee made bricks and hired someone to build the house. They used the money made from the green garden to buy the door mounted in the house. This humane gesture restored happiness to this family.
And just like Ndawona says "the days when we felt unsafe are over now" and when it rains they no longer have to wake up and stand.