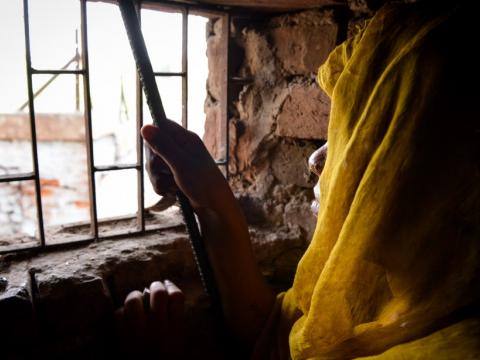 Double dowry
Thursday, February 18, 2016
16-year-old Geeta* had no saviour.
Her father Kumar* says, "They told me, 'You are poor. You don't have much money. Get both daughters married at the same time to save dowry and marriage expenses."
Pausing to compose himself he says, "She was around 14, my younger one. When I made the decision and got her married at the same time as my older daughter. I deeply regret that decision."
Kumar with his daughter Geeta.
Bidding her education goodbye in Grade 3, Geeta dropped out of school. Doing the household chores had become her life; a step towards grooming for marriage. Geeta remembers the day when her marriage was fixed with great disdain.
"My parents were instigated by the society. They said she will come of age soon, her youth will show. Get her married off before it's too late," says Geeta. "I pleaded and tried to explain to my parents that I didn't want to get married, it was wrong but the societal pressure was too great."
South Asia is home to almost half, 42%, of all child brides worldwide.
Geeta's parents bid her goodbye in a small marriage ceremony at home. Kept at her parent's home after marriage, Geeta conscientiously trained to be a good homemaker before leaving for her husband's home, unaware of the peril awaiting her arrival.
"I was sent to my in-law's place. What I saw was very disturbing. My sister used to get beaten up often. It hurt me to see her that way. Every time they came to beat me, my sister shielded me. I also got to know that the man I was married to drank. His behaviour is bad," Geeta says.
"I felt like ending my life."
The current status of child marriage, according to UNICEF's Ending Child Marriage Progress and Prospects 2014, is that among girls it is most common in South Asia and sub-Saharan Africa. South Asia is home to almost half (42 per cent) of all child brides worldwide; India (33%) alone accounts for one third of the global total. It further states that India (58%) is in the list of the 10 countries with the highest rates of child marriage.
Geeta's sister mustered the courage to expose the treatment by her in-laws in a detailed phone call to her parents.
Elated to be reunited with her parents, Geeta desires to have her life back.
"I am out of my in-laws' house; the will to live has come back," she says. "It is very wrong to get children married off at an early age. Girls should get married only after 18."
"I am out of my in-law's house. The will to live has come back."
Encouraged by the support provided to her family through counselling by the World Vision supported Men Care Group members, Rajkumar and Mangay Lal, Geeta says, "People from the group explained to my parents that what they did was wrong and is a serious offence, the penalty being jail. I am glad that my parent's eyes are opened now. They want me to study. If this group had existed earlier I wouldn't be married today."
Alerting other parents to avoid making the same mistake says she, "Don't let your daughter suffer the consequences of your bad decisions, it is her time to study, play and enjoy her childhood, don't steal those precious years from her."
*name changed