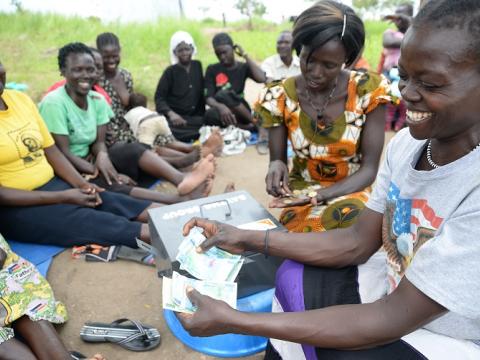 Economic and Political Empowerment: A Powerful Mix When Women #PressForProgress
Thursday, March 8, 2018
Fiona Nabadda was a struggling farmer and recently divorced mother of seven when she volunteered to organise women around income generation in her Ugandan village.  As a volunteer she had the opportunity to participate in civic education and engage with local officials, which highlighted to her a range of commitments the Ugandan Government had made to staffing and equipping health centres and schools. It also highlighted to her the lack of local leadership by men in pursuing access to these commitments for women in her village.
This opportunity gave Fiona the confidence to take some big strides she never anticipated. Despite opposition from local leaders she stood for her local village elections, then later sub district elections and then she succeeded in becoming elected a local councillor.
From the published and grey literature, we know relatively little about the role of social accountability in supporting women's leadership, empowerment or transforming gender bias. In a major study on women's leadership in 2015 the Overseas Development Institute (ODI) found "the quality and role of women's voice and leadership in the outcomes of social accountability processes" were difficult to infer due to a lack of intentional analysis.
But an evaluation done for World Vision has found that where social accountability, which promotes a sense of local political empowerment, was combined with women's savings groups, which promoted economic empowerment, some significant changes, including in household decision-making, emerged.
In the quasi-experimental study to understand the impact of gender of World Vision's social accountability work Citizen Voice and Action (CVA) Makerere University researchers found impact for women and gender roles to the point where it was "causing discomfort to the men whose traditional power positions are being deconstructed… men seem to perceive the current status of women as threatening to them, their narrations reveal that CVA has empowered women to participate in decision making in the household." The evaluation found that women were speaking up and had more "power in the household, this included them acting as decision makers; demanding an equal share of property after divorce; often having more money than men; and being willing to report domestic altercations to the police."
Fiona Nabbada's story supports World Vision's experience that enabling women to be their own catalyst for change can lead to an increase in female leadership at village and sub-national level. The ODI study and other research highlight the importance of supporting women leaders at the local level to overcome the significant barriers of time, money and gender bias in achieving national electoral positions. In PNG women volunteers became the most active volunteers in previously non-functioning ward committees. World Vision's social accountability work actively promotes women's voice through age and sex disaggregated groups which nominate the key issues they would like to see improved in their schools and health facilities.
Even where many women are afraid to speak up in a community group, their voice may be represented in a larger group through their contributions collected through the use of a community services scorecard, which allows communities to highlight issues of concern and monitor future progress in a facility such as a school or health clinic. As in Fiona Nabadda's case, the ability to access civic education through learning about government standards and processes at the start of the process is key. In Indonesia, a village leader who had successfully lobbied for a permanent midwife didn't point to his role as the most significant change he had witnessed through participating in the process of CVA. Instead, he said what most impressed him was that, for the first time, women were speaking up in the meetings he chaired. As the evaluation in Uganda identified this can also be attributed to the fact that the civic education is directly related to women's needs for themselves and their children. Information is focused on education, health, water and sanitation, their entitlements to these and what the government has committed to provide by way of staff numbers, medicines, textbooks etc.
Women in the village of Du on the Indonesian island of Flores have also been supported through World Vision's social accountability approach to understand their right to access health services, especially through a government law mandating a permanent District-resourced midwife in all villages. With this knowledge they pressured their village chief to visit the Sikka District to lobby for a midwife. The village chief admitted after being elected seven years previous he had never been to visit the District on behalf of his constituents. The local women demanded he approach the District and ask for a midwife, and then they forced him to revisit the district authorities three times before the District finally agreed to supply one. Young women and girls also now feel better able to speak up in front of their elders. In the case of Indonesia they openly criticised attitudes that prevented these midwives receiving suitable accommodation or a proper welcome into the local community.  
Intentional and systematic research is needed to discover what role social accountability training can play in women's empowerment and gender roles. Nevertheless, it is clear from just these few examples that more traditional women's empowerment and gender programmes should replicate the above approaches, especially among communities that may lack a culture of challenging political power.
Sue Cant is the social accountability adviser for World Vision. Sue has 14 years' experience working in international development policy, technical advisory on sub-national governance and social accountability.
Barbara Kalima-Phiri is World Vision's Senior Advisor, Gender and Inclusion. In her 12 years as an international development expert she has also been World Vision's Regional Senior Advisor on Advocacy and Justice for Child, Special Advisor to the President for the African Monitor and has been a Policy Analyst for the Southern Africa Trust.