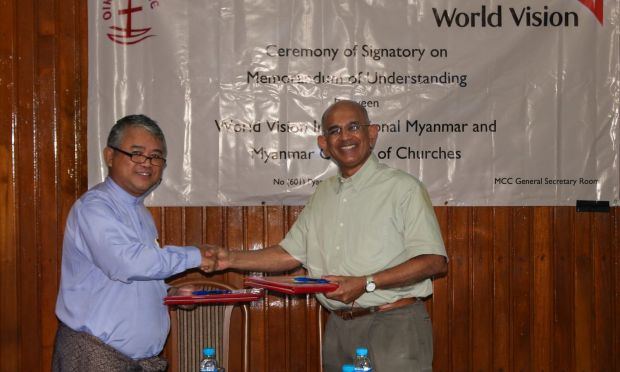 Myanmar's churches, which for decades have provided spiritual nurturing and evangelism, are now adding their focus on the development work as they partner with international and local non-governmental organisations (NGOs).
World Vision clearly understands the vital role of churches in reaching out to the poor. Thus, to be able to reach out as much as possible to vulnerable groups, World Vision Myanmar (WVM) is expanding its partnership with different denomination of churches.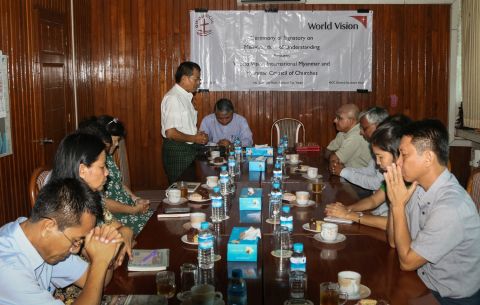 In a recent milestone, WVM signed a Memorandum of Understanding (MoU) with the Myanmar Council of Churches (MCC) on 15 August 2017. This comes one a year after signing an MoU with Myanmar Baptist Convention to continue working for holistic community development.
World Vision will continue to partnering with churches by strengthening their capacities to serve the poor and sharing its expertise. The organisation is committed to provide training for the members of the MCC and organize inter-church/inter-faith seminars on development.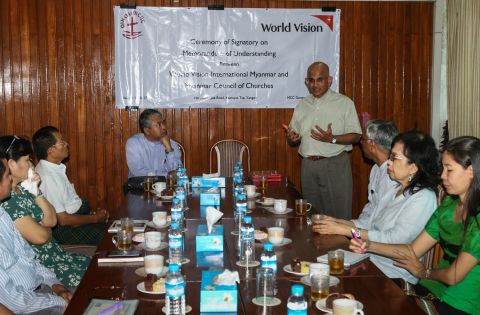 "World Vision is a faith-based organization. We are not proselytizing but want to witness the work that churches are doing in their ministries. I strongly believe that the combination of the two will surely address not only the needs of the country but transformation of development," says Suresh Bartlett, National Director of World Vision Myanmar.
"We are happy to partnering with World Vision to work for the children. Let the children have a chance to express their feelings. Let's walk together to work for the neediest on the theme 'Journey Together'.", says Mahn Palmerston, General Secretary of Myanmar Council of Churches.
"We look forward to collaborating with World Vision for the benefit of children, families and the churches. It will be an equal partnership, as we support each other and pray for each other in our future endeavors," says Rev. Zaw Win, Vice President of the MCC.
World Vision has been working in Myanmar since 1991, focusing on the wellbeing of children, their families and the communities with long-term approach and also partnering with many faith groups in the communities where we work.