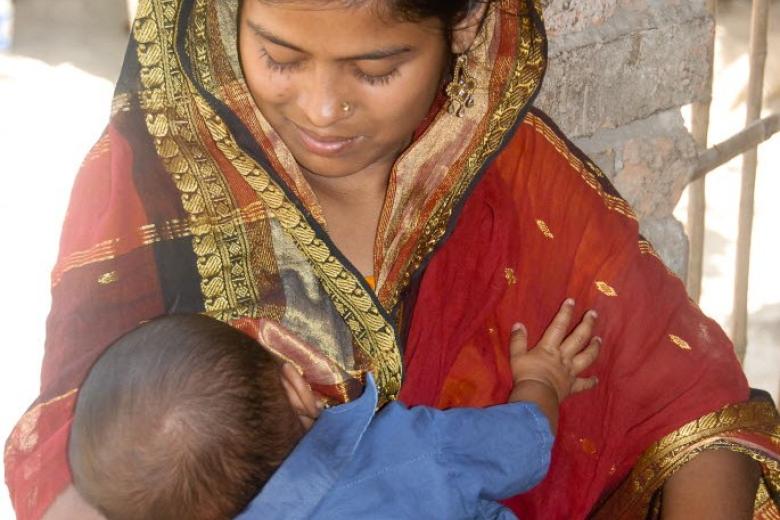 Expert Insights: Breastfeeding and Work
Friday, July 31, 2015
Experts Insights Article for World Breastfeeding Week, August 2015
Dr. Carolyn MacDonald, Nutrition Director, Nutrition Centre of Expertise, Sustainable Health, World Vision International
Breast milk is the first and best food for infants. Breast milk not only provides specialized nutrition perfectly designed for a growing infant's needs, but also builds the infant's immune system, improving survival and delivering lifelong benefits for health and development. [1]

The World Health Organization (WHO) recommends that all infants should benefit from exclusive breastfeeding—meaning they receive no other liquids or foods, except essential medicines—during the first six months of life. [2] This recommendation is grounded in clear evidence of the benefits of exclusive breastfeeding for infant survival and health. [3] Although breastfeeding is universally available and free of charge, fewer than 40 per cent of children around the world are exclusively breastfed for six months. [4]

World Vision actively supports the global goal of increasing the prevalence of exclusive breastfeeding to 50 per cent by 2025. [5] Enabling more mothers to exclusively breastfeed will require significant changes in national policy as well as increased support by competent breastfeeding counsellors at the community level. The need to return to paid employment is one major barrier to exclusive breastfeeding faced by mothers around the world. Enhancing workplace support for breastfeeding is the theme of this year's World Breastfeeding Week (1–7 August 2015).
Workplace support for breastfeeding encompasses three core elements: time, space and support, as shown in the figure below. [6]
The need for time begins with adequate maternity leave provisions. The International Labour Organization (ILO) standard for maternity leave with statutory benefits is 14 weeks, although countries are encouraged to extend this to at least 18 weeks.[7] In 2014, 98 countries met the ILO standard and 42 achieved or exceeded the recommended 18 weeks. [8] However, enforcing this legislation and ensuring that all eligible women can access their entitlements remains a challenge. In addition, maternity leave protection often does not cover specific groups of workers, including domestic helpers, the self-employed and agricultural workers. The ILO estimates that 830 million women do not have access to adequate maternity leave protection, with the majority of these in Africa and Asia; the very places with the highest burden of malnourished children.
Improvements in the coverage and enforcement of maternity leave protection are clearly still needed in many countries around the world. However, even achieving the ILO-recommended 18 weeks will not fully cover the period of exclusive breastfeeding. Therefore, workplace solutions are needed in addition to maternity protection. This includes the provision of time for breastfeeding or expressing breast milk during the workday, and a comfortable and hygienic space in which to do it. Incorporating infant care centres into workplaces allows parents to continue bonding with their children, and mothers to breastfeed, during the workday.
The ILO recognizes the importance of breastfeeding, and has included the provision of reduced work hours and "nursing breaks" within international standards for maternity protection. [9] In 2014, 121 countries had enacted provisions for breastfeeding mothers, with 57 conferring the benefit for at least one year. However, the nursing breaks are not always paid, and only 50 countries have enacted the recommended provision for hygienic breastfeeding facilities at or near the workplace. In more than half of these countries, the provision is only applicable for companies employing a minimum number of women.
In Indonesia, the Ministry of Health enacted a regulation in 2013 on lactation facilities in the workplace, including breaks for women to breastfeed or express breastmilk. However, there are no penalties for workplaces failing to provide these facilities, which limits implementation of the regulation. World Vision Indonesia's Child Health Now Campaign is calling on the Indonesian government to ratify and enforce both the ILO Maternity Protection Convention (No. 183) and the Maternity Protection Recommendation (No. 191).
In addition to improvements in legislation, shifts in corporate culture are needed to recognize the value of actively promoting and supporting breastfeeding in the workplace. The ILO argues that "such are the health benefits of breastfeeding that support for it at work when properly financed can be a 'win-win scenario' for workers and employers." [10] Supporting breastfeeding pays off for employers as well as families. [110] Breastfed infants are healthier, with fewer episodes of illnesses and infections than their formula-fed counterparts. [12] This reduces the number of days parents must take off work due to infant illness, [13] and lowers costs to employee health benefits programmes for prescription medications and other health care costs. Workplace support for breastfeeding also improves employee morale and retention of competent workers.
A number of World Vision offices in the Asia Pacific Region have taken important steps to support employees who are breastfeeding mothers through initiating a Mother-Baby Friendly Office (MBFO) movement. As an organization dedicated to child well-being, World Vision is leading by example in ensuring that the children of staff members have full access to the life-saving and health-promoting benefits of breastfeeding. Several offices have extended maternity and/or paternity benefits beyond nationally legislated requirements, while others have established breastfeeding rooms and on-site nurseries, or created flexible working arrangements to better accommodate nursing mothers. The movement is guided by ten proposed steps, with each participating office working toward incorporating one or more of these vital elements into policy and practice. 
Learn more about the Mother-Baby Friendly Office movement.
Breastfeeding benefits everyone—babies, mothers, families, employers and society. Protecting and promoting breastfeeding in the workplace through time, space and support is an ideal way to invest in both the well-being of today's workers and the healthy development of the next generation. 
 REFERENCES
[1] Horta BL, Bahl R, Martines JC, Victora CG. Evidence on the long-term effects of breastfeeding. World Health Organization, Geneva, 2007.
[2] World Health Organization, UNICEF. Global strategy for infant and young child feeding. WHO, Geneva, 2003.
[3] Kramer MS, Kakuma R. Optimal duration of exclusive breastfeeding. Cochrane Database of Systematic Reviews 2012, Issue 8. Art. No.: CD003517. DOI: 10.1002/14651858.CD003517.pub2.
[4] Lutter CK, Daelmans BMEG, de Onis M, Kothari MT, Ruel MT, Arimond M, Deitchler M, Dewey KG, Blossner M, Borghi E. Undernutrition, poor feeding practices, and low coverage of key nutrition interventions. Pediatrics 2011;128(6):1418-1427.
[5] World Health Organization. Comprehensive implementation plan for maternal, infant and young child nutrition. WHO, Geneva, 2014
[6] World Alliance for Breastfeeding Action (WABA), World Breastfeeding Week 2015 resources, accessed at http://worldbreastfeedingweek.org/index.shtml
[7] ILO Maternity Protection Recommendation, 2000 (No. 191.).
[8] ILO: Maternity and paternity at work: Law and practice across the world (Geneva, 2014), available at: www.ilo.org/maternityprotection
[9] ILO Maternity Protection Convention, 2000 (No.183).
[10] ILO: Maternity and paternity at work: Laws and practice across the world. Policy Brief, 2014, p.13.
[11] Zinn B. Supporting the employed breastfeeding mother. Journal of Midwifery & Women's Health 2000;45(3):216–26.
[12] Dewey KG, Heinig MJ, Nommsen-Rivers LA. Differences in morbidity between breast-fed and formula-fed infants. Journal of Pediatrics 1995;126(5):696–702.
[13] Cohen R, Mrtek MB & Mrtek RG. (1995). Comparison of maternal absenteeism and infant illness rates among breastfeeding and formula-feeding women in two corporations. American Journal of Health Promotion 10(2), 148-153.