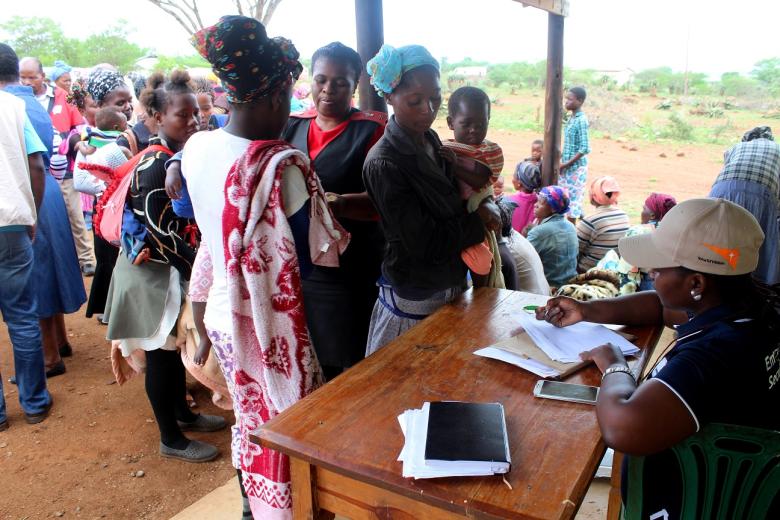 Feeding and food-for-assets programs benefit 45,000 people in Swaziland
Monday, January 30, 2017
Four months ago, Phiwayinkhosi, two-years old, was unable to walk properly and nurses in the nearby clinic were concerned about his weight. At his age he was supposed to be running around like a normal child. He was weaned at 12 months because his mother was not eating well and she couldn't continue breastfeeding him.
He staggered when he walked and eventually sat down. A local rural health motivator visited the family two months ago and he was weighed. They discovered he was underweight. "The nurses were always concerned about him, but there was nothing I could do. He would have difficulty walking and spent a lot of the time sitting. As a mother I was not happy," laments the young boy's mother, Dudu Myeni, 39.
Phiwayinkhosi is one of 3,255 children who were screened for malnutrition in six constituencies affected by the El Niño-induced drought in Swaziland. He is currently enrolled for supplementary feeding for Under-5s as part of the food assistance programme supported by the United States Agency for International Development (USAID). He hails from Lubulini constituency under the Lubombo Region.
The other constituencies are Mtsambama, Nkwene, Mafutseni, Mkhiweni and Mahlangatane. World Vision Swaziland currently has 78 children receiving 7.5kg Corn Soya Blend (CSB) and 750ml of vegetable oil each every month. "World Vision officers promised to bring some food supplements for him and true to their word they have been providing faithfully. Phiwa loves his food and sometimes he would refuse other food and cry for his food from World Vision," she says.
Due to Phiwayinkhosi's condition, his family was also registered for the Food-for-Assets project, where they have been doing community work, including rehabilitating roads, in return for food which is also provided with the support of USAID. "We will forever be grateful to World Vision for this. Initially our family was not benefiting from the general food distribution and I would do piece jobs like washing people's clothes to earn and feed my family. It was never enough though," she says.
Her group works from 6am to 10am for four hours weekly. Dudu said that their roads have not been in good condition and cars had difficulty using them but they never had the time and energy to do the repairs. She adds, "Every day, we would go out to look for piece jobs and food. We have no energy to work because we were hungry. One of the reasons why I weaned Phiwa early was because I was always hungry."
When they started receiving food rations of mealie meal, cooking oil and beans, she said they were able to work as a community. "This has opened our eyes and we have realized that together we can achieve a lot, even our relationships as a community has improved and we are able to care for one another," Dudu said.
"Ensuring dignity to the beneficiaries as we do the response work in the face of the unprecedented drought is very crucial. We continuously provided food to the beneficiaries in the early stages of the drought and water supply for sanitation and hygiene to avoid the rise of disease. All these were very important especially to the women and children", Swaziland's response manager Thomas Okollah concludes.