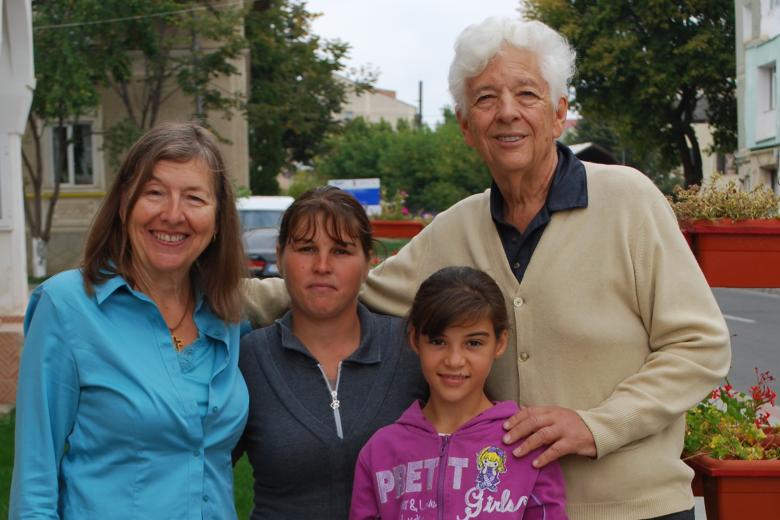 The first visit of an American couple to a sponsored child in Vaslui 2
Tuesday, November 26, 2013
I first met George and Jane, an American couple, who sponsor two children in Romania, in the train station from where my colleague and I picked them up before taking them to their hotel.
Regardless of the late hour and their exhaustion, Jane was thrilled to have arrived and excited to meet their sponsored child, Andreea. The next morning, at 8 o'clock sharp, we picked them up from the hotel and travelled to World Vision's office where the meeting was scheduled to happen. 
While travelling, we shared a basic overview of the Romania and this area in particular, including sharing that: Romania's agriculture is still highly dependent on the weather conditions; that 32 per cent of the country's workforce is in agriculture and forestry; that household income is 24.7 per cent less in rural areas; that agricultural production for consumption accounts for 38.3 per cent of the rural households' incomes.
They, were astonished that: in a country to have so much agricultural land there is so much poverty in the rural areas; that the student drop-out rate is on the rise (up to 10 per cent leave school by the age of 14), and that Romania has the highest number of confirmed or supposed victims of human trafficking (inside the European Union): 1.885 people, more than a third of whom are children.
"The reason why we chose to sponsor two girls was precisely because we know that in rural areas, they are forced to drop out of school after 8 to 10 classes in order to get married, even if they are very young. We wish that this will never be the case for these two girls, at least," said George.
In World Vision's office, Andreea Irina and her mother were waiting for us patiently in a room filled with pictures made by students. To welcome the sponsors, cookies, juice and coffee were provided—just like it would have been if they were to have visited someone's home in Romania.
Upon entering the room, George and Jane approached the table, smiled at the little girl and shook hands with her and her mother. They were happy to see the enthusiasm on the little girl's face and her mother's joy.
 "Too see you in real life is so much better than to see a picture of you," said Jane. George completed her thought. "We choose Andreea because we saw a picture of her. We had the privilege of picking her. But now that she sees us, I am wondering, what if she doesn't like us?"
Andreea smiled. She managed to overcome her shyness and said that she likes them very much and is happy to have them as her "American  grandparents".
Their conversation shifted to their similarities—both Jane and Andreea have a passion for drawing.  Although Andreea was shy, her mother, Elena, was sure to tell her sponsors how her daughter is indeed special, because of her mature way of thinking, her sensitivity and her determination to achieve something in life. She also told them how very fond of her daughter is of the relationship she has with George and Jane, and that she keeps all of their letters in a special drawer. Finally, she also shared that Adreea's favourite subject is mathematics, but she is also very fond of geography.
George, who also likes mathematics, was surprised to hear that Andreea who is only 12 has already started to learn about equations and fractions in the 6th grade.  A proud smile spread across his face as she told him about her lessons at school. 
Jane used to be a science teacher. Now, dedicates her time to drawing. She wanted to offer them something special to remember, so she asked what she could draw for them. Andrea said she wanted "a drawing of the bird that delivers the baby!" They smiled and Jane started drawing a stork.  George said that Andreea is very talented and he hopes that she will continue to draw. He advised her to keep the best drawings for herself and from time to time to send them some paintings, as well.
While drawing, Jane asked her if Andreea has friends and how she plays with them. Andreea told them about the bumble-bee game: she and her friends pretend to be bumble-bees and fly around flowers to collect pollen. They even imitate the drone sound while running chaotically, flying their hands up and down.
While Jane was drawing, Andreea watched closely, admiring her techniques. "I wish I could be just as good as you are!" she said. They encouraged her, saying that she has very good drawings and shouldn't feel ashamed of her talent.
Then, George asked if Andreea knew what she needs to do in order to have a career in life, if she knows that she has to aim as high as to get a university degree and a master's degree. She had little understanding of the things he was telling her, but eventually she agreed to George that she will do her best to remain in school and that she will try to learn English. Andreea said that even though she started learning English in the fifth grade her teacher does not do any oral exercises. He only makes them copy texts from the text book. "You have to learn English for us, because we are too old to learn Romanian. And we are going to send you books to learn English, and hopefully, in time, you will learn our language," said George.
Andreea told them that she already is making an effort to learn. She simultaneously reads the letters they send in English along with the translation, and tries to understand which word are which.  She then adds that she feels happy because all of the children envy her for having "American grandparents" and adds that the letters give her pride.
When Jane finished the drawing and gave it to Andreea, they also gave her a gift consisting of: a drawing pad, coloured pencils, and a bracelet, "because every girl should feel pretty," a toy pen and a multifunctional ruler. Excited about her presents, she told them that she will make great use of them, and will work on her drawing skills every day. However, her little sister shares the same hobby, so she will also share her gift.  Jane continued with a new drawing, but this time for Elena who said she loves red flowers.
Andreea also brought a gift to her sponsors: a bag of grapes that she has collected herself from their vineyard. George and Jane took one grape each and shared the rest with the World Vision Staff. Thrilled to see the grapes, Jane offered her a new gift: a card she recently bought, picturing grapes. "What a coincidence! There is nothing we enjoy more than purple grapes."
"How do you get to school?" George asked.
"Well, the school is situated 2-3 kilometres from my house. I can take the school bus that comes and picks me up, but if the winter is heavy and has too much snow, the bus doesn't come. I can't walk to school because I might catch a cold. This is why I have been missing classes for two months in the winter. I had to collect the lessons from some friends who have attended school and follow up with what I missed." It was the same reason for which she was in danger of repeating the school year last year.
Then Jane asks if Andreea helps her mother at home, besides assisting her younger sister with doing her homework?
"I sometimes clean the house and look after the animals. At home we have two pigs, a small one and a big one, and a cow," she answered.
For Andreea, life has not been easy. Her mother divorced her father and she has been separated from her natural brother, who now lives with the father.
George asked her if she has ever been outside her village. "I have been to Bârlad, the most beautiful city of Vaslui County. Unfortunately, I was there to visit my aunt and she couldn't afford to take me to the Marcel Guguianu Sculptural Museum, The Museum of Natural Science nor The Planetarium," she remembers.
He then asked her if she goes to church and if she prays.
"I pray every day and I go to church every Friday afternoon and every Sunday morning."
George pictured the real life harshness of that Andreea. In a more serious tone, he said: "I also go to church and pray to God for the welfare of my relatives and friends. But most importantly, I pray to understand God's plan with my life, how could I have come to Romania and meet this wonderful grand-daughter of mine. I know that we are all God's children and God looks after all of us, just as we have to look after all the children of the world."
 The visit came to its end. It was time for good-bye. George and Jane warmly embraced Andreea and her mother. But, this was just the beginning. They all knew that their relationship is going to be tighter and their friendship, forever. 
While travelling back to Iasi, one could have easily understood how affected they were about their visit. George said: "I knew they were confronting poverty, but I think one doesn't understand it until you hear it from a child. What I want to do is to start collecting money at the Church so that Andreea-Irina and her colleagues could go to Bârlad and visit museums. If I had any doubts about World Vision and how it works, I am now certain that I have made the best possible decision by sponsoring two children."