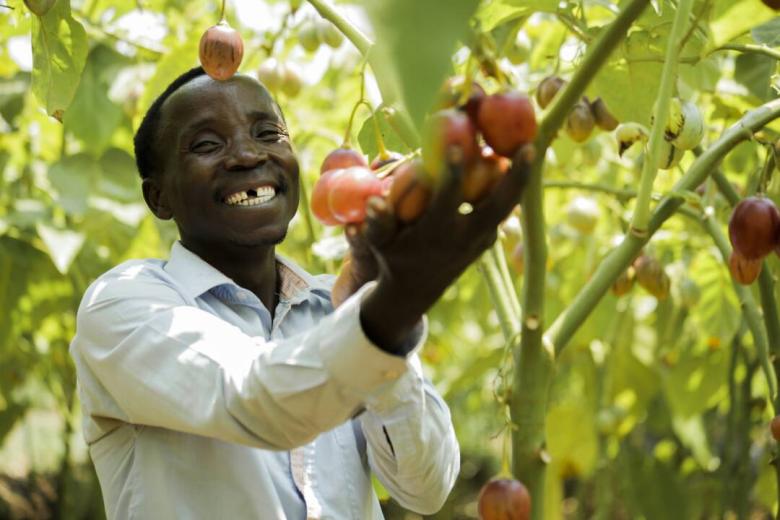 FMNR: Improving the resilience and productivity of soils through agroforestry
Tuesday, April 3, 2018
"I never thought I could be a business farmer; rather, I saw myself as a simple farmer who had to survive on his small harvests and sell the little rests to  provide for the family, this is how I used to live," says Emmanuel Tuyizere, a farmer from Rweru in Bugesera District. In the drought-prone Eastern Province of Rwanda, farmers such as Emmanuel are benefiting from practicing FMNR.
The Farmer Managed Natural Regeneration, commonly known as FMNR is mainly a climate smart approach to restoring degraded croplands, grazing lands and forests, thereby reversing biodiversity loss and reducing vulnerability to climate change. In Rwanda, this approach, popularized by World Vision (WV), has been rapidly promoted and adopted thanks to the Government's very positive attitude towards environmental issues and its favorable policy environment.
Emmanuel's story with FMNR began when he met with WV staff working in his community for the FMNR project in 2016. The project was offering training for farmers who wanted to learn about land regeneration techniques. Knowing he had the resources within his reach, Emmanuel was interested to receive training from the project to help improve the productivity of his land.
During the training, Emmanuel and other farmers were trained on how to regenerate, protect natural trees and understand their values. "We used to uproot the trees that were growing in our lands because of lack of skills. Now we know that trees are important for restoring our soils," says Emmanuel.
After receiving the training, Emmanuel was keen to apply FMNR new techniques and cultivate tomato trees, a plant that is said to be not productive in his area. For the first season, he was able to produce 3 tons on a 70mx60m land. The biggest part of the harvest was sold for approximately FRw 3 million (3600$).  For the next season, he decided to cultivate on a bigger land where he expects to produce 6 tons and double his income.
Emmanuel's new agribusiness has allowed him to provide for his four children. School fees, food, other materials and mutuelle de sante are paid on time contrary to how it used to be.
 "I was not expecting to sell such a big quantity of fruits and get that income," says Emmanuel "In the past, my family consumed rarely fruits. However, since last year, we have been frequently consuming fresh tomato trees from our own field."
Since the inception of the FMNR project in Bugesera, over 80,000 farmers have adopted its modern practices. They have greatly benefitted of the improvement of the soil fertility which allowed increment of their production and income.
"If FMNR terminates its projects in our area, I will still be able to share the knowledge I received," says Emmanuel.