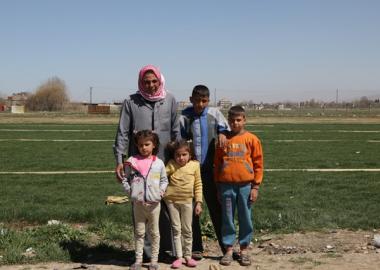 Food for thought
Thursday, May 3, 2018 — Josephine Haddad
"I have trouble sleeping at night, worrying about my children's next meal."These were the first words uttered by Mohamad, a 47-year-old Syrian refugee who is the father of six children:
In Lebanon, only two of his children had the opportunity to go to school but it was closed down without any plan for substitution.
Mohamad lost his wife to cancer a few years ago and although he's worried about how this will affect his children, he was unable to find love with another woman. He fled Syria four years ago from Rif Halab and found a safe shelter in an informal tented settlement in the Beqaa valley.
With no mother to look after the family, Mohammad is no longer able to leave his children to work. He wakes up every day earlier to prepare the breakfast and spends his day with his kids, trying tirelessly to ease their pain and sense of loss.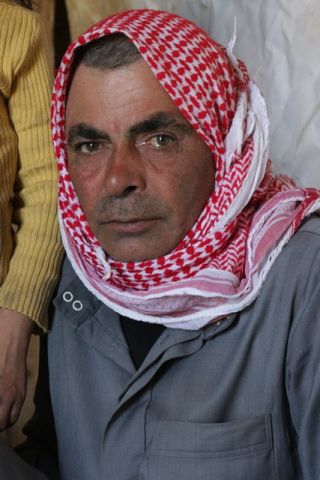 As soon as visitors arrive to their humble home, composed of one small room, they instantly feel the warm-heartedness of the family. The father was done preparing the breakfast and all his children were ready to enjoy their meal.
Mohammad sat down behind his children to watch them eat, offering the very image of what fatherhood is all about.
But whenever he was asked about the availability of food for his family, Mohamad was always hesitant to answer. He had too much pride. All he wants is to ensure a certain sense of security to his children. With a tear clearly visible, he said "We have enough food most of the time, maybe around the end of the month, we sometimes skip a dinner or two but I don't care for myself. I care about my children, it's all about being able to feed all the children."
He went on describing the limited food supplies: "We can't afford to get a variety of nutrients."
Mohamad tries to buy food that can last longer and feed more people, adding that the family rarely gets to buy meat or chicken.
He adds: "We use the card you (World Vision) gave us to mainly buy bread, potato and rice. We create so many different things out of the same ingredients. We try our best".
Currently, the family's main source of income is the $27 per person food assistance electronic 'e-cards' they receive on a monthly basis, implemented by World Vision Lebanon and funded by the World Food Programme.
Mohamad's eight-year-old daughter, Kawthar, ran outside to hug her father. She hadn't much to say but when asked about her dream of the future she said: "I want to become a doctor and treat myself and the other kids."
Kawthar has been diagnosed with scoliosis and abnormal spine growth since birth and is not well treated. She fiercely showed her biggest challenge in life; she has to constantly wear a brace and might even need to undergo surgery. She is not embarrassed; she is not weak. A lot of lessons are learnt just by observing the resilience of Kawthar.
Imad, Mohamad's ten-year old son, was so happy and smiling when visitors arrive. He takes them to his favorite spot around the house where he likes to look pictures of cars. Imad enjoys flashy colors that closely relate to his joyful character. His dream is to become a taxi driver as he found it to be "not so messy". In his own words: "I'll stay clean when I'm a taxi driver!"                     
The family faces lot of challenges every day and its basic needs are often not met; needs that we take for granted in our own lives. In addition to the food concerns, Mohamad and his children have to deal with extreme cold weathers and heavy storms without proper heating systems during winter. They live each day in fear of sickness and disease.
Despite all the challenges, Mohammad and his children offer a lesson of love and strength to the world. They survived the Syrian conflict and continue to survive against all odds. They are a true testament of what it means to be a family. However, they live with a great fear of losing the assistance they receive from World Vision and other agencies as funding cuts are increasing and the assistance provided decreasing.
Every little bit of help counts in support throughout the endless crisis. As Mohamad and his family show, every good act ripples hope and joy into the souls of the children.
 Story by Mark Karam