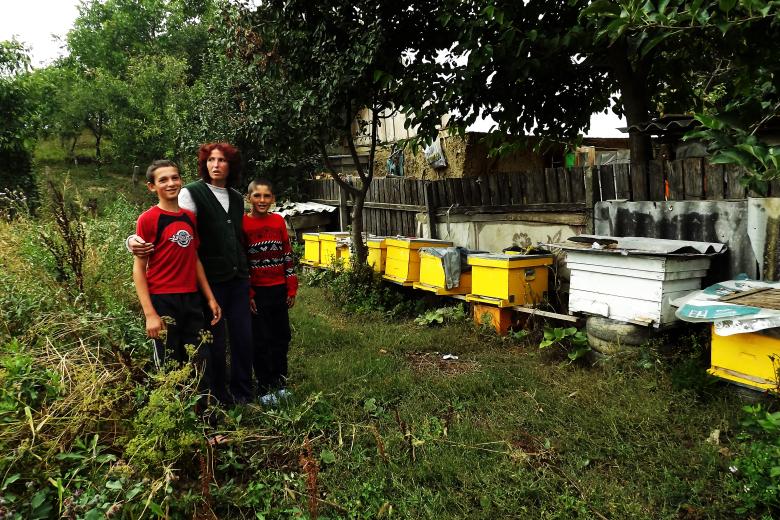 Friendship without Borders: Words Can Change Lives
Tuesday, November 26, 2013
Communication has been the core preoccupation of human kind, the main resort that has encouraged social, cultural and economical development. People have always been drawn to one another, sharing their own perception on reality or their feelings regarding the world.
How could a child from Vaslui County, Romania, who has never been outside his village; has no television and little access to proper education and literacy (not to mention books) understand reality? For many children from Vaslui, reality is no more than the day-to-day struggle for their basic needs — food and a place to live – to be met.  While some children from Vaslui could aspire to escape poverty, it is likely that they have little understanding of how to do this or even what a better life would look like.
World Vision's community development program not only gives the children the hope for a better future, it also gives them the motivation to change things around them. 
First of all, the written words of their American friends (sponsors) gives children the chance to have a glimpse of what a better life should look like. Many children, who are registered in the sponsorship programme, receive letters on a regular basis—letters they await with much enthusiasm and which they read out loud in front of, or with the help of, their parents. 
Dragos is only 13, but he considers himself the "luckiest child among his peers" because he is the only one in his village to have received so many letters from Kerri, his "American friend".
Dragos lives with his parents and his grandmother in a small L-shaped house that was built in 1940. He, his five siblings, and their parents live in one side of the house – a two room appendix with two beds each. The grandmother lives in another room, with separate entrance. 
Dragos doesn't know much besides his life in the countryside. He goes to school and is very fond of mathematics. When asked about Kerri his friend from the US, he says he confides in her as he would an older sister. "My mother is more strict. She wants me to do my homework and to help her with duties around the house. Kerri is different. She's like my older friend, in whom I can trust," he says.
He told Kerri how much he likes to play football and, in return, she sent him football cards.  "I felt so good showing my friends my American cards. I am the only one in the village to receive such gifts from my World Vision friend," he says. 
Dragos shares his life with his friend from the U.S. as their families have a lot of similarities. Kerri is also a mother of six children. He usually describes his day-by-day life in school, at home, on the playground or whatever he thinks worthwhile sharing, when he writes. From all of these small episodes, Kerri can picture Dragos's life and she, in turn, helps him imagine hers.  
"Once she told me that she participated in a wedding. Her smallest daughter wore a beautiful white dress and threw rose petals on the aisle. The choir sang a beautiful song and after the ceremony, they all had dinner in a garden. I wish I could go to such a wedding," he says.
"Here, in our village, people get drunk and become violent [at weddings]. They are not watching their mouths and I can't let my children be exposed to such things. That is why they have never been to a wedding. I'd rather let him think that this is how a wedding is like all of the times," continues his mother, Petronela. 
Dragoş wants to become a policeman. "But, even more, I want to find a girl to marry and have a family. In life, you have to have a family. This is what Kerri taught me. She also encouraged me to do better in school. I know have better grades in physics and mathematics. I know Kerri also likes mathematics and physics."
Dragos realises he is lucky to have his family. "We love and support each other," he says. "I know if something bad were to happen to me, my parents would do everything that is in their power to help me, just like they do for Ionuț," he says, speaking of his 12-year-old, brother. 
To make their situation even more difficult, Ionuț suffers from Cardiac Bronchitis, a small hole in his lungs and needs to take medicine constantly. Although he benefits from subsidised prescriptions, which cost only $3 USD a month, he also needs to visit the doctor on a regular basis, which is complicated and expensive as the nearest operational hospital requires a one-hour bus ride from their village. 
Despite his situation, Ionuț has successfully graduated at the top of the class from his primary school and is anxious to learn new things in the gymnasium. 
In addition to their children's medical needs, both of Dragos parents have their own health concerns often foregoing medicine for their own chronic conditions (of urinary stones, ulcers and hepatitis) to be able to pay for medicines for their children.   
Dragos has three more, older, sisters: Elena, 15; Mădălina, 16, and Andreea, 18.
Elena and Mădălina are both in the 10th grade. They have to use the bus every day. Sometimes, when the winters are very harsh, they have no bus that could take them to school. And, although they were supposed to receive free bus passes for the entire school year, they received only one month's worth of passes. "If conditions are harsh and we have no money, we will not be able to keep them in school," said their mother. "We will just have to settle with the fact they would attend 10 classes only."
Andreea is attending a High School in Iaşi. She has benefited from the great opportunity of receiving a place in a dorm-room and three meals per day. Unfortunately, her scholarship does not cover the weekends. Each Friday and Sunday, she has to commute between her village and Iaşi. A two-way ticket costs up to $4 USD, for which she barely manages to pay with her monthly state poverty allowance of $12 USD. 
Although she has just one more year until the final examinations, she is not sure she will pass. "Teachers are not too interested in helping pupils learn," she says. "Most of them wait for the students to take on private lessons... and we can't afford any." The truth of the matter is that in Romania, a beginning teacher has a minimum wage of $250 USD per month while a more experienced one could only gain up to $350 USD. Considering the living expenses of our country, teachers from urban areas and large cities, often diminish their interest at school and attract children towards private tutoring to increase their earning opportunities. 
In terms of financial budget, the family relies on the four children's state allowance of $12.5 USD per child, or $50 USD a month plus an additional $50 USD they receive from social aid--$100 USD per month for a family with adolescent children, is barely enough to survive, even without health and educational expenses. 
There are no jobs in the rural area. Their father tries to work as day-labourer. Unfortunately, no one seems to be able to hire someone, even on these terms. "Who is going to hire me for a daily job?" he asks. "People just don't have money as they used to," the mother adds. "Today, everyone relies on their close friends and families in an effort of help each other out." 
This is also the same case with Marian Daniel, 19, Dragos's oldest brother. He has finished high school this year and passed his final examination. He has been looking for a job but can't find any. He has deposited his file for unemployment and he used the money to support himself until he finds a job. He wants to become a bodyguard, but he would have to pay for a special training. The high school he has finished – technical calculations specialist – gives him little or no opportunities in the working force market. 
A small piece of cheese was left on the table. It was just the size of a fist. The mother took it carefully and placed it somewhere outside. There were no signs of bread. That was the children's lunch for that day. When asked what their favourite food is, Ionut and Dragos eagerly respond, "fried potatoes!"  It seems they are not used to eating meat. Most of their meals consist of vegetables they are able to grow in their yard: potatoes, paprika, tomatoes, eggplant, cabbage, cucumber, beans, maize, beet, parsnip, celery, parsley, onion, and garlic. They do not have much land, so they plant just a small amount from each plant. 
The mother says she tries to offer her children a daily diversified meal, but she doesn't have much to offer. The traditional Romanian sour-soup called Borş, is what they most often eat for lunch.  However, what she worries about most is winter time. With the little money they had, they bought a small pig, which they will raise until next winter. "We borrowed some money and used some that we already had at that moment [to buy the pig] because its owner was willing to sell it way below its price. We only paid $45 USD, for an animal that usually costs almost $100." 
For this cold season, they also have an older pig which they will butcher at Christmas time. They will use the meat to prepare sausages, steaks, blood pudding and German sausage. A mature pig is enough to provide food for the whole family, for two months, especially as they use special preparation techniques to ensure the meat will last. 
Without the meat from the pig the family relies primarily on boiled peppers and eggplants and a little milk and cheese from their cow to fill their stomachs in the winter. They used to have a number of chickens but several of them have died because the family did not have food to give them.  For this family, every day is a new struggle for a better life.
Even providing basic food for their children requires a lot of work, their full attention as well as their children to help them out. "I am so glad that Andreea has this opportunity of studying in Iasi… Not just because she is attending a better high school, but because she no longer has to help me around the house and she can focus more on her studies.", says the mother.
When we visited them, they were about to start school. I asked if they were prepared with writing materials and they said they have some money put aside. "It's collecting season", says one of the girls. "We all went to collect fruits, nuts and plums. We receive 0.15 cents per bucket. In one week's time, we managed to gain about $8 to 10 USD each and bought some notebooks and something to write [with],"said the father. 
In Romania, a package of writing materials with everything a child needs for school (notebooks for each subject and for the homework, drawing pad, geometry pack, coloured pencils, school bag) costs around $30 USD per child. It is very common for children in the rural areas to use the same notebook for different subjects or to share their writing materials with their brothers and sisters. To all these expenses, one would have to add proper clothes and shoes for going to school, considering the harsh conditions of winter season this often adds up to be another $60 USD per child. 
The family is happy to have their son in World Vision's Sponsorship Programme of Vaslui 2. Kerri helped them out by sending a Gift Notification in total amount of $100 USD. With the money, the family could afford to buy Dragos clothes, a jacket, a pyjama, a pair of shoes, some T-shirts and oil for cooking. "It is very difficult for us to buy all the necessary things for our children. Even if I go in the city and buy my child a pair of shoes which costs up to $15 USD, considering the rural conditions and the muddy roads, they will be ruined in a month. And we barely can afford to buy them clothes once a year…" said the father. 
Also, through the Livelihood for Transformation Project, the family has received a technological package of five hives of bees with all the necessary equipment. They succeeded to produce about 20 jars of pure and tasteful honey. "Children like it so much; I had to burry 10 jars of honey in the yard so they wouldn't eat it all and leave something for the winter time as well," said the mother. 
They are just at the beginning of their beekeeping journey. Some honey they have preserved as food for the bees and some jars they have offered as a gift for their relatives or friends who need it the most, demonstrating their belief that, 'What you give, God gives back three times more'.
They wished they would have multiplied the hives, to have more honey in the future. But they couldn't afford the costs: a new hive with 10 frames costs about $78 USD, a new family of bees is $60 and the costs for food, medicine and beech reaches up to $12. For a new family of bees, the family would need to pay $180. 
Somehow, the parents preserve their faith in God, and they know that their struggle is not going to be in vain. They are also very confident that Kerri has been a good influence on their child and are thrilled to see how involved Dragos is in writing his letters back. "Once, when he received a letter, he was out late to help his father collect fruits. When he saw the letter, he was so happy that he couldn't wait till the next day to write her back. He just wouldn't go to sleep unless he finished his letter," says the mother. 
Every letter of Kerri starts with a confession "I pray to God that you and your family may live in good health and protection." He always writes back to her, using the same sentence.