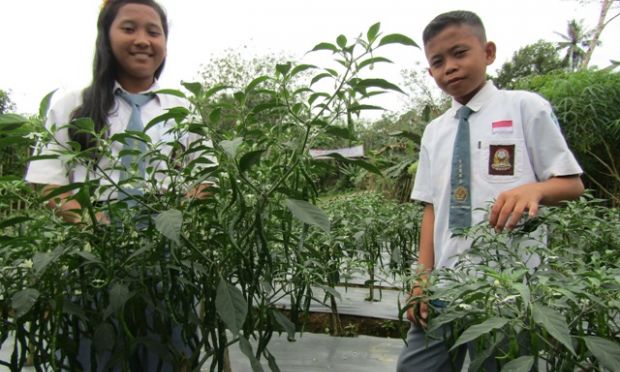 The vocational high school SMK Negeri 3 Hiliserengkai – located at Dusun II Ehosakhoji village of the Hiliserangkai District in Nias, North Sumatera Province, Indonesia – has been around for not too long. The school comprises of two classes with a total of 99 students who can major in either Agriculture or Computer Technology and Networking.
Sabadodo Halawa is the principal of the school and is known as a kind-hearted leader with immense enthusiasm and eagerness to improve the quality of the school's education system – particularly for the Agriculture major.
The current condition of the school is very minimal and mediocre as it has only been built and established recently. However, this becomes a stimulus that ignites the fire and desire within his heart to improve this school through collaboration with the government, Department of Agriculture and also World Vision Indonesia – Nias Operational Office as their partners.
The red chili appears as the designated choice of crop to develop into a plantation due to the high chances of an expansive market with promising prices. Another important reason behind the selection of the red chili is because several students in the school already have previous experiences selling them. These students learned from their mothers who took part in the Sukamaju group that was facilitated by World Vision Indonesia in 2011. "I already know how to sow the seedlings, maintain (the seeds) during the early stages and also moving it to available lands," shared a student named Lesman (18).
However, the limited capital has become an obstacle that halts the progress to establish the red chili plantation as a business for the students. As a result, the school administration decided to submit a proposal to World Vision Indonesia regarding a request for support. Thankfully, it turns out that their effort did not go to waste. World Vision Indonesia took part in facilitating the provision of necessary equipment and materials such as the seedlings itself, organic fertilizers, pesticides and tools for watering the crops.
Processes such as blocking grasses, planting and maintaining the seeds as well as installation of mulches are done collaboratively following a specific routine.
"Every afternoon following school, we would work together alongside the teachers. We hope that the results can then be used to facilitate our school activities – particularly to develop the red chili plantation independently," explained Tetiani enthusiastically.
The excitement of these students to develop and run the red chili plantation has been acknowledged and welcomed joyfully by their parents; they are pleased to see their children's creativity shine through this business. "We are extremely delighted and supportive to our children. We give them full permission to work in the plantation every afternoon and we would even ask them what progresses have been made every time they came home from work. simply to give them motivation," expressed Ina Puni (37) who is a parent to one of the students.
Written by Aprianus Ndraha Hia & El Pinar Simanjuntak, World Vision Indonesia, Nias Operational Office.