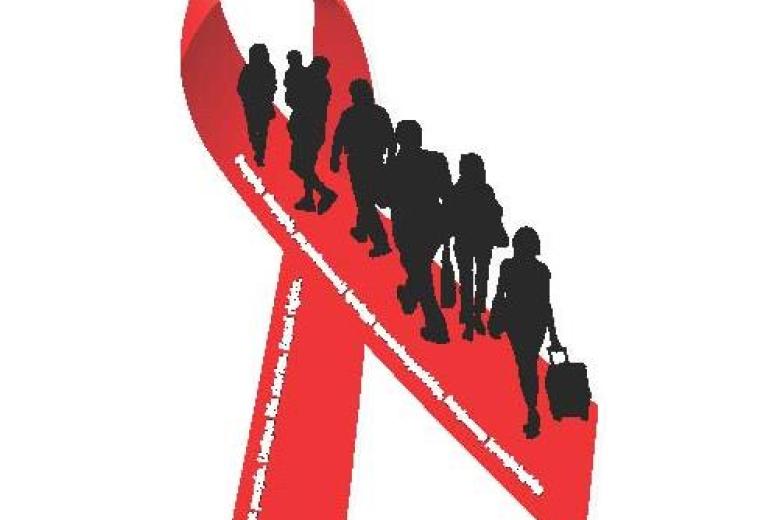 HIV-related medical support to job migrants, regardless of their country of origin
Wednesday, May 21, 2014
Mr. M*, 41, is one of the 126 HIV-positive citizens of the Republic of Armenia, who was infected while on temporary employment in the Russian Federation in 2012. When he realized that he might have been HIV-positive, he also understood that this could be the end of his career in the Russian Federation, as HIV-positive job migrants not only face severe stigma and discrimination but also immediate deportation.
"For job migrants in the Russian Federation, the ability to stay and work in this country is life-saving, as employment opportunities in this big country enable them to earn not only their own, but the whole family's living. This is why it is but vital for job migrants not to reveal their HIV-status," says Sam Tadevosyan, a representative of Real World Real People a non-governmental organisation (NGO) working with HIV-positive people in Armenia.
There are no precise official figures of how many people earn their living outside Armenia, but officials say that the number one destination country for the vast majority of Armenian job migrants continues to be the Russian Federation. Statistics provided by a number of international NGOs indicates that 90 per cent of all job migrants that leave the country annually find employment opportunities in the Russian Federation.
Another alarming statistic about the job migration of Armenians is that more than 80 per cent of people living with HIV in Armenia have reported to be infected due to migration – 62 per cent are job migrants and 20per cent are the sexual partners of job migrants.
"The situation of job migrants living with HIV is desperate. They are not able to openly receive any medical and psychological assistance in Russia; they are unable to pass appropriate analysis or buy medication due to the fear that their status will be revealed. This, in turn, largely aggravates their health conditions," says Sam Tadevosyan.
As of January 2014, 1,634 individuals been registered as HIV positive in Armenia. And, in 2013, the largest number of new cases – 238 – were registered. According to estimates from the people living with HIV and AIDS in Armenia, the number of people living with HIV and AIDS is at least twice the official figure.  
Treatment of HIV-positive citizens of Armenia is free of charge and the medications and testing costs are covered under a program financed by the Global Fund to Fight AIDS, Tuberculosis and Malaria. However, even knowing that in their home country they will receive free treatment and medication, a large number of job migrants prefer to stay in the Russian Federation, where there are more employment opportunities.
"They need to think of their [ability to make a] living. In Armenia they will hardly find a proper job that will ensure their decent living," explains Anush Sahakyan, project coordinator for World Vision Armenia. "In the Russian Federation, these people earn enough, their only concern is how to conceal their HIV-status."
Like many other Armenian job migrants living in Russian Federation, Mr. M. ignored his health condition for years. But, recognizing that he would soon lose control over his health, he decided to turn to a charity organization for support. He called Real World Real People, an NGO in Armenia.
Real World Real People is among the local NGOs that cooperate to provide care and assistance to job migrants in destination countries, within World Vision's "Cross Border Cooperation for HIV and AIDS Prevention and Impact Mitigation in the Southern Caucasus and Russian Federation" project, funded by the European Union.
This cross-border referral mechanism was established to assist migrants in need to get appropriate HIV-related services, such as HIV testing, check-ups, treatment, care as well as psychological and social support. The local NGOs from Armenia, Georgia, Azerbaijan and the Russian Federation cooperate with each other to ensure that confidential assistance is provided to every beneficiary.
"It was of tremendous importance to establish such cooperation between local NGOs," says Anush.  "[This] will ensure the continuity of cooperation, which, in turn, means that hundreds of people in need can still rely on confidential support, even in those countries where immediate deportation is the only way out," he adds.
This referral mechanism, while a good first step is not able to solve all of the migrants' HIV-related issues. Local NGOs cannot offer full-scale support to migrants, as testing and medications are very expensive and these costs must to be covered by the migrants themselves, an obstacle not all migrants can pass.
Recently, World Vision initiated a migration management strategy in Armenia and Georgia with the purpose of including a HIV/Health component in the document, which will hopefully improve access to HIV-prevention and treatment to migrant population.
The problems of Armenian labour migrants outside Armenia, however, cannot be solved by changing Armenian policies. These problems can only be solved through the signing of bilateral and multilateral agreements.
In the face of the absence of bilateral agreements between governments, migrants' issues are partly addressed by non-governmental organizations, through the referral mechanism. "Together with partners, World Vision will continue its advocacy work in this field because HIV-status should not be a hindrance for a person to earn his living," says Anush Sahakyan.
 "We have even encountered a man, who refused to be tested in a private clinic, because the charge was not affordable for him. He preferred not to know his health status and instead send his earnings to his family in Armenia," says Sam Tadevosyan, adding that every time a person turns to them, they know they are dealing with a human beings, people who in trouble and who often don't know what to do or hae anyone else to turn to.
After being tested in a private clinic, Mr. M. came back to the Positive Initiative Network of People Living with HIV and AIDS (PLWHA) in the Russian Federation where he was referred by Real World Real People. To date, Mr. M. continues to live and works in the Russian Federation. He regularly attends support groups, and receives counselling and psychological assistance.
He is thinking of ways to return to Armenia, get registered at National AIDS Centre to receive his free medication and then go back to Russia again.
*Mr. M's name was concealed to protect his identity.