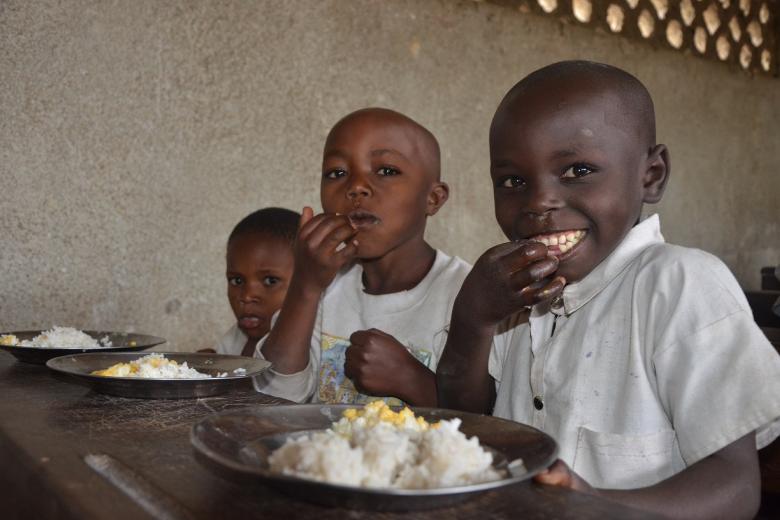 Hot and healthy meals encourage learning for Congo's children
Monday, December 12, 2016
Lushebere Primary School in the Democratic Republic of Congo was built in 2007 following the arrival of many displaced children. Lushebere is a small town located in the hills of Eastern Congo that has experienced over 20 years of conflict due to marauding armed groups and bandits.
The arrival of the displaced children doubled the number of students from 400 to 832 boys and girls, straining the resources on the school that suddenly needed more desks, additional teachers and textbooks.
To help address the need, World Vision created a school feeding project in Lushebere to support the teachers and the new students. Knowing that children learn better when they are not hungry, the healthy meals served have encouraged the children to stay longer in school, contributing to improved learning conditions.
Read more: UN Secretary General serves lunch to pupils at a World Vision-WFP project
"When the displaced children came, they were hungry and has nothing. Their families left behind all their things as the bandits chased them out of their villages. World Vision provided support through distribution of school kits, clothes, office supplies, explained Baume Mutwa, the school principal.
Mutwa explained that the school feeding project has kept boys and girls in school. "It helps them concentrate on studying and their parents become more motivated to send their children because they know they will receive hot meals.
Jean-Luc, is ten-years old and lives in the Lushebere IDP camp. He stays with his mother, brother and sister in a tarp covered tent. For him, school is the one place he finds joy and happiness. He hopes to become a teacher one day.
"When I go home there often isn't any food to eat because my family is so poor. Yet at school I learn French, play with my friends, and share food," he explains smiling.
Learn more: World Vision school meals programme that has children smiling and learning in Nicaragua