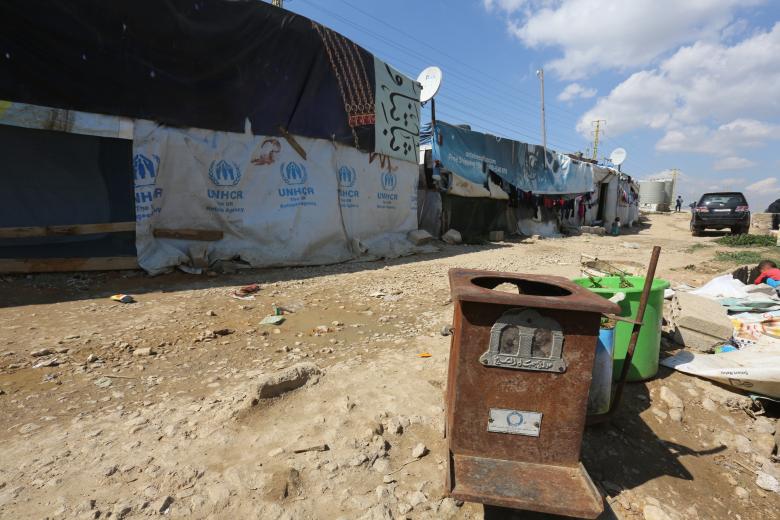 How a heating stove has helped one mum gain her new privacy
Thursday, April 28, 2016
Sitting inside her makeshift tent in Lebanon's Bekaa Valley, 33-year-old Madaya reminisced how she never thought she was ever going to leave Syria, even when the war started. Syria was her life, and her husband was her safety net. It wasn't until the school next door was destroyed by bombs that she was forced to rethink her decision. 
Madaya said, "My husband didn't want to leave and I didn't want to go without him. But when the school that was 150 metres away from our home was destroyed, my husband sent my four children and me away to Lebanon to stay with his brother."
For the past five years, Madaya has been staying in the same tent with her brother-in-law Turky and his family-of-ten. Everything, including rent and medications, are paid for by him. He's even carved out a small room for Madaya and her children.
Winter has always been the toughest season for the family. In the Bekaa, freezing temperatures and heavy snowstorm further exacerbate the harsh living conditions in the tent. Before the receiving the grant from the Austrian government, Madaya and her children used to share the stove with her brother-in-law and his family by day and sleep in the same open area at night.
Madaya said, "In previous winters, we tried to cover the tent with plastic sheets and sit around the heating stove to keep warm; but water used to leak through the roof and the plastic sheets would have ripped. As a result, my children were constantly getting sick. We were never able to afford fuel. My brother-in-law would again go in debt and purchase it from the store owner."
Turky has been in debt since 2013. With rising costs from winter, rent, food, electricity and others for both his and Madaya's family, Turky now owes almost two million LBP (US$1,300). He jumped in and said: "These kids are my kids. Going into debt for them is worth it - I'll protect them. I'm under pressure but all I want is good health and safety for my brother's wife."
Last December, World Vision implemented the winterisation grant provided by the Austrian Development Agency (ADA). Things immediately improved for Madaya and her children.
Madaya said, "When I received the extra cash, I felt so great because I was finally able to afford fuel on my own. Turky bought us a new stove separately for our room and I spent all my money on fuel. It made a huge difference! My children weren't getting ill anymore and were able to sleep through the night warmly. For the first time, I got my privacy back. It felt great sleeping in our own room."
In the background, her children were beaming with joy. Eight-year-old Imam said: "I'm happy having a stove in my room! It's warmer and I've got my own space with my mum and my brothers and sisters."
Madaya added, "It's sad because my husband isn't here. If my brother-in-law wasn't here, I would have just stayed in Syria, even now."
It's hard to quantify what having a tiny heating stove and fuel meant for Madaya and her children. It's clear that she misses her husband dearly, especially in the middle of the wintery weather and in times of need and protection. Looking into her eyes, it seems ADA grant has given her a new-found freedom - a new breathing private space for her as she continues to take care of her children.