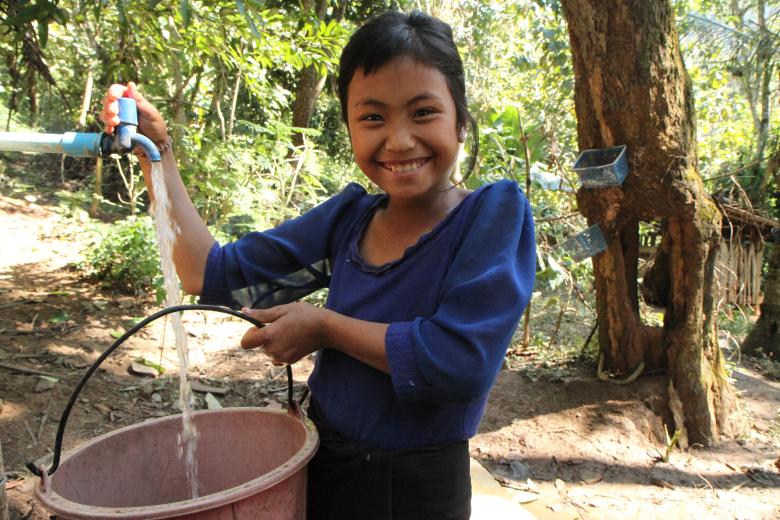 This is how water went from dangerous to safe
Monday, March 21, 2016
A stream of life in its most literal sense
Every morning and every night, Wian walked to a stream half a kilometer outside of her village to collect water for her family.
"I felt tired when collecting water, but I had to do it because my parents worked all day in the farm and got back late," said the 10-year-old primary school student.
Learn more about World Vision's Clean Water programme
The work didn't end there. Firewood needed to be collected to boil the water so that her family could use it for drinking, cooking and washing.
This hard working girl lives in Huaysaking village with her father Penh, mother Nith, grandmother, older brother and younger brother. At times, there was no time to boil all the water. Drinking unclean water left Wian with stomach aches and often prevented her from going to school.
Her family members also got sick. To recover, the family would need to borrow money to buy medicine- money the family did not have.
In 2014, World Vision built 6 clean water taps, one of which was located very near Wian's home.
"I no longer have to walk far to get water for my family; I have more time to help with chores around the house like washing dishes, watering the home garden, keeping the house clean and feeding the chickens, ducks and pigs," Wian said.
"Our village is really different from a few years ago when we were faced with health problems that would add to the difficult task of water collection placed on women and children. Now, we have access to clean water and less health problems," said Thongvanh Pheangvilay, a vice village chief.
A reported 76 per cent of Lao people were estimated to have access to improved sources of drinking water in 2015.
Clean drinking water has meant improved health across the village and higher monetary savings. Families no longer have to visit the health center as frequently, thus saving money on the costs of transportation and medicine. Studies in Lao PDR show that children living in households with improved water and sanitation are less prone to diarrhea and stunting.
"My family and I are very happy and thankful to World Vision for the clean water system they helped build in our village," Wian's father Penh added.
Water safety and water quality need increased attention. While Lao PDR still has acceptable water quality in its rivers, this is increasingly threatened by pollution.