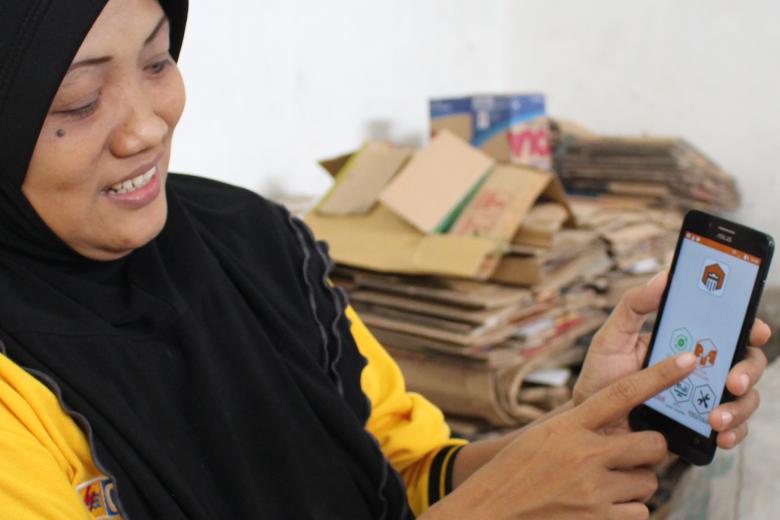 Indonesian women banking on World Vision's waste app
Tuesday, May 9, 2017
By Rena Tanjung
Mila sits at her desk reviewing her notes and checking her Android smartphone. Nearby two colleagues are busy sorting plastic and bottles into sacks, their task fed by a woman motorcyclist arriving with rubbish collected locally.
"This is what we do every day in Marunda Waste Bank," said Mila. "I work as the Manager of Marunda Waste Bank. I am responsible for compiling the data from our customers. I am also responsible for selling rubbish to our buyers."
What these women are doing is more than a business venture, it is a necessity. In Jakarta, 7,000 tons of rubbish are produced daily with only 5,200 tons taken away by garbage trucks to site in Bantar Gebang. With this amount of uncollected garbage, the government of Indonesia decided to initiate the Waste Bank model since 2008. Nine years on and, in Jakarta, 325 waste banks are currently running with the total of 16,608 customers.
Of all the trash, 47% is industrial waste and 53% of household waste with a composition of 67% of organic waste; 32.8% inorganic and plastic waste; and 0.2% other debris.
Living by the sea trash is a particular issue for Mila and her fellow residents of Marunda flats in North Jakarta's Cilincing sub-district. So, in 2014 she and 20 housewives decided to do something about the growing problem: establish Marunda Waste Bank.
Customers bring data challenges 
This is a temporary recycling center managed by community that allows locals to deposit their waste and receive benefits in return such as credits, the payment of house utility bills, food supplies or money put aside in savings.
Mila said, "We turn the inorganic garbage, especially plastic and bottles, into money for our needs. A resident here can save around US$98 for six months of using the Waste Bank. We often use the money we save from using the Waste Bank to buy staples like food. We can't buy much, but it helps us to meet our daily needs."
Mila went on to explain that, for three years after the Waste Bank was established, accurate data entry had been a persistent problem. There were simply too much information to keep track of; some people didn't have their information captured properly. 
Thankfully help arrived in shape of an Android application called SESAMA built by a 23-year-old young man called Marcello and his college mate at in Atmajaya University. The app, which was developed with World Vision's support, connects residents to their nearest waste bank, but it also gives the Waste Bank staff members the assistance they need. 
Mita Sirat, the World Vision Indonesia's Water, Sanitation and Hygiene specialist explains, "Customers or residents can  arrange pick-up, track their waste amount and check their money deposit in real time. The SESAMA application also helps the Waste Banks with their administration, plus the Waste Bank can monitor the waste deposit amount, money deposit, customer's data and transaction trends."
A game to a game changer
Developer Marcello explained the app was originally designed for fun. "At first, we wanted to make game application about collecting garbage," he said. "Our lecturer rejected that because it did not provide any social impact. After that, we tried to make another application that could be used by many people. We met World Vision Indonesia and agreed to develop the SESAMA Application together." Marcello and World Vision in Jakarta focused on developing the application concept and trialling it at some waste banks across North Jakarta. It was finally released in 2016.
"We are happy that many people are benefitting from SESAMA Application," Marcello said. "We have seen a lot of changes especially in managing the data of Waste Bank customers".
Benefits beyond the Banks
Mila has  been familiar with the application for just few days but she has quickly discovered the benefits of using SESAMA Application.
"Now it is easy to manage the data of the customers especially the amounts of money they have saved in Marunda Waste Bank," she said. "With this application, the data will come out correctly. There will be no more mistakes in storing their data. Now each member can see their saving amount directly in their application. They do not need to come here just to check their saving account.
"I do not need these books anymore because any data can be directly stored in SESAMA Application--I do not need to write it manually in a note book anymore. We are still learning how to use it but we believe that soon we will be familiar with this application because it is quite easy to use. For residents, if they do not have time to come here, they can use SESAMA to order a pick-up, and our staff can go and collected the garbage that they have gathered."
The SESAMA Application was also shared with local government of North Jakarta in 2016 and received support from leaders such as Yani Wahyu Purwoko, the Vice-Mayor of North Jakarta.
"SESAMA is really useful for Waste Banks in Jakarta because the staff can use it to manage their administration and reporting," he said. "This application is also very useful for government to monitor the amount of waste managed by the community. I believe that the community will certainly understand the benefit of collecting garbage after using this application."