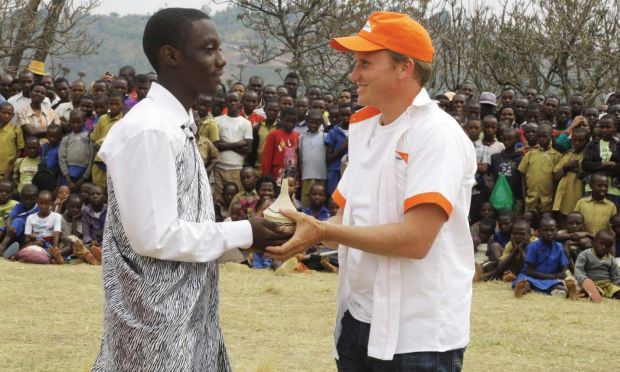 On 30 August, 7 September, and 26 September this year at three separate community celebration events, World Vision Rwanda (WV Rwanda), its partners, and community members from different parts of east, south west, and central Rwanda respectively gathered to celebrate 17 years of positive community transformation implemented by WV Rwanda in collaboration with the Rwandan Government and with support from different partners through several community-based projects in Nyamagabe, Bugesera, Gasabo, and Rulindo Districts.
Karaba Area Programme (Karaba AP) was a World Vision US-funded Area Programme (AP) that was part of WV Rwanda's Nyungwe Cluster and operated in Nyamagabe District in the south west of Rwanda since the year 2000. It covered four Administrative Sectors of Cyanika, Kibilizi, Kigoma, and Mbazi; and targeted a total population of 56,229 people. Beneficiaries composed of 18,732 adult males; 21,340 adult females; 7,330 boys, and 8,827 girls. Like several other WV Rwanda APs, Karaba AP implemented several projects concerned with sponsorship management; education; HIV&AIDS; shelter; health and nutrition; food security; Healing, Peacebuilding and Reconciliation (HPR), and hygiene water. The programme was implemented throughout three phases, with phase I having started in 2000 and ended in 2005; phase II having started in 2006 and ended in 2010; and phase III having ran from 2011 to 2017). Karaba AP's interventions, like those of the rest of WV Rwanda's APs, were tailored to support vulnerable families –particularly those headed by orphans and/or widows.
As for Gashora, Ngenda, and Nyamata APs, they made up what was WV Rwanda's Bugesera Cluster located in the south of the Eastern Province of Rwanda, and were funded by World Vision Canada. In partnership with local leaders and community members; and as far as Education is concerned, these three APs worked to ensure that children within Bugesera District were educated for life, and contributed towards initiatives leading to the strengthening of community structures on literacy and numeracy skills; improving the implementation of Early Childhood Development (ECD) and improving functional adult literacy and numeracy. As far as livelihoods improvement, health, peace-building, and WASH are concerned, WV Rwanda's interventions in Gicumbi District also touched many people's lives; leaving heads of households empowered and better-placed to contribute towards the total wellbeing of their children through being able to generate sustainable income that appropriately helps them to meet theirs and their children's different needs. Children from the poorest of households were also registered under WV Rwanda's sponsorship programme.
Gashora Area Programme (Gashora AP) covered the Administrative Sectors of Juru and Rilima; Ngenda Area Programme (Ngenda AP) Shyara, Nyarugenge, Ruhuha, and Mareba Sectors; and Nyamata Area Programme (Nyamata AP) Ntarama, Musenyi, and Cyugaro Sectors. Put together, the interventions of Gashora, Ngenda, and Nyamata APs benefited a total population of more than 200,000 people.
The last WV Rwanda AP to close out in 2017 –Buliza Area Programme (Buliza AP)– was a World Vision Taiwan-supported semi-urban development programme that was also started in the year 2000. It was part of WV Rwanda's Kigali Cluster and covered the Districts of Gasabo (Jabana Sector) and Rulindo (Ntarabana, Kinzuzi, and Murambi Sectors) within Kigali Province in the central part of Rwanda. Having identified problems like low quality of education; low agriculture and livestock production; a low level of off-farm employment opportunities for community members; poor cooperative entrepreneurship skills among local community members; poor health services available to community members; a high prevalence of HIV/AIDs within the community, and a high rate of malnutrition among children under the age of five despite the operational area being considered a relatively urban area, WV Rwanda put in place several projects to address these problems with the support and collaboration of different partners. At the end of 17 years, Buliza AP had impacted a total population of 94,749 people including vulnerable groups.
Sean Kerrigan, WV Rwanda's National Director, spoke on behalf of the organisation at and after the three separate community celebration events; expressing a strongly-felt sense of confidence in members of the concerned local communities, and much gratitude to the Rwandan Government and the other different partners that the organisation has been working with over the last 17 years:
"As World Vision employees, we are called to serve our Lord and Saviour Jesus Christ through promoting social justice and empowering the most vulnerable children, their families and communities to meet their physical, emotional and spiritual needs. In 2000, WV Rwanda aspired to contribute towards building a peaceful and prosperous Rwanda where people would love God, live in harmony with each other, and where children would enjoy a safe environment where they could grow and reach their full potential. When I hear the stories of the different people that we've touched as an organisation, I feel that truly we have hit our objectives in these communities. It is a blessing to see how positively things have changed since 2000".
"Of course, none of these achievements would have been possible without the support of our dear partners, the collaboration of the Rwandan Government, and of course the wonderful members of the different communities in which we've been implementing our different interventions. Together, we've been able to achieve greater impact that has helped us to positively transform the lives of community members here. And as these programmes transition, we believe that what we've left is an empowered group of community members who will continue working together towards even greater development".
At each of the three community celebration events, guests were taken through gallery walks highlighting the impact that has been seen in each of the concerned communities. Guests also got to see expositions by different beneficiaries running different kinds of businesses or undertaking training in different disciplines. Some community volunteers and AP Committee members were awarded certificates of recognition for the very useful part that they played in the development of the WV Rwanda intervention areas mentioned. And of course not to forget, guests were treated to some great local entertainment as part of the celebrations!
The interventions of WV Rwanda in Karaba, Nyamata, Gashora, Ngenda, and Buliza APs have overall contributed positively to the wellbeing of children in these areas by especially empowering their parents and caretakers to start businesses, join local savings groups, and connecting them to microfinance institutions which have granted some of them loans to grow and comfortably run their businesses. These APs are five of six WV Rwanda APs to have closed out this year; with the sixth one having been Rushaki Area Programme (Rushaki AP) of Gicumbi Cluster in the Northern Province of Rwanda, which closed out on 21 July.
Click on the highlighted anchor links for more photos from the Karaba AP (30 August); Gashora, Ngenda, and Nyamata APs(7 September); and Buliza AP(26 September) community celebration events.