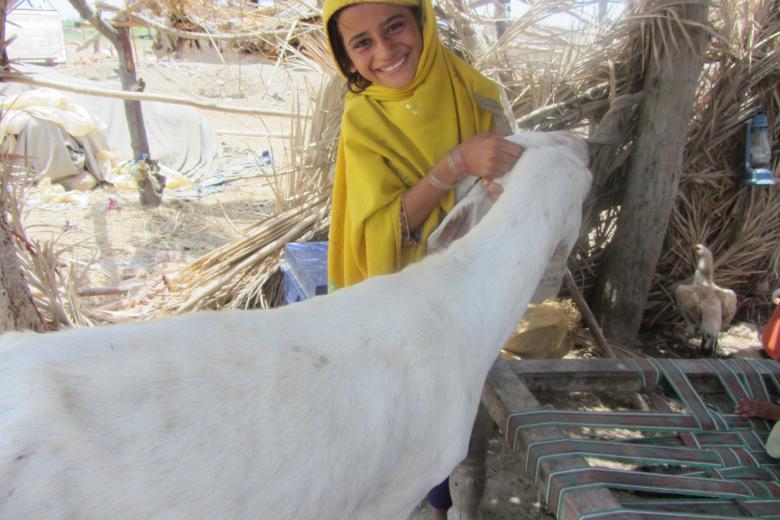 Kash Card and a goat helps Moraan feed her 'angels'
Monday, August 27, 2012
After losing her home to flooding one year ago, Moraan, 40, is starting to get back on her feet. She is hopeful that she will now be able to look after her four daughters in a better way, as she has just bought a goat with the money she received from a World Vision 'Cash for Work' project.
Moran lives in a village in District Sanghar, in the south of Sindh, Pakistan. This village was badly affected by the 2011 floods. Broken houses and flood water markings remain there, evidence of the destruction faced by this village.
Moraan's husband died two years ago due to Hepatitis, leaving her with no means of support. She worked in a field to cultivate crops and earn some money. She was barely able to feed her children, who she calls her 'four beautiful angels', but she was unable to pay off the loan of PKR 20,000/- (US $220) which her husband had taken to pay for his medical treatment. Moraan began to work more, taking care of other people's cattle, in return earning half of the profit when the cattle were sold.
"Perhaps my destiny wanted me to be braver."
By doing so, she managed to pay off half of the loan. She was determined to pay off the other half, but her plans were washed away in the 2011 floods. "Perhaps my destiny wanted me to be braver," shares Moraan. "That is why things got worse when I was thinking that 'I am on my feet and I can manage each and every thing'."
"I lost my husband. I lost my house. I lost my work. I lost whatever I possessed. I was going to pave my foot on the path of prosperity but 2011 floods submerged that prosperous path," says Moraan.
"I didn't lose my hope. I lost everything but I had my angels with me and I have to be brave, to bring them up in a way that they should be able to face the harsh realities of life."
That God is with them who help themselves stands true for Moraan. She was struggling to fight the ups and downs of her life and when she lost all she had, World Vision started its relief operations in southern Sindh.
With support of the World Food Programme, World Vision started a 'Cash for Work' project in order to improve the food security situation.
Under this programme, workers were given "Kash Cards' worth PKR 5,000/- (US $55) for clearing agricultural water channels, repairing roads and removing debris. Moraan was selected for two different schemes in her village. She worked for 15 days to clean an agricultural canal and another 15 days to rehabilitate a main linkage road, earning her two 'Kash Cards', worth PKR 10,000 (US $110).
The project is aimed at improving infrastructure for the benefit of the whole community, while providing a small amount of cash support to vulnerable families, aiming to improve food security. Water channels and roads were damaged in floods and agriculture, being the major source of income, is highly dependent on access to water.
With her Kash cards, Moraan bought food, medicines for her daughters and paid some money off her loan. But she was able to make a more sustainable investment, too, by buying a goat.
"I bought this goat to feed my daughters and the goat will eventually give birth to baby goats and I'll get more milk and more goats which will help me to earn money," says Moraan.
"I love this goat, this goat is very beautiful and I used to play with her and I like to drink the milk of goat," says Shabeeri, Moraan's seven-year-old daughter.
So far, some 15,971 families like Moraan's have been issued with Kash cards, under a programme which will help contribute to the local economy and give families the flexibility to buy the things they need most.
Moraan is still working in agricultural activities, and feels hopeful that the goat she has bought will contribute to her earning capacity, once it starts producing baby goats.
"I am really thankful to World Vision. With your support a ray of hope has been created and I am hopeful to have my destiny work well this time around," she says.
I was having mixed feeling while interviewing this brave woman, at some point I was disheartened to hear the hard times she faced, and at others I was very happy to see the courage of this brave mother. Moraan truly represents the women of rural Pakistan who are really very brave, wanting to do things on their own and not relying on the mercy of others.
End.