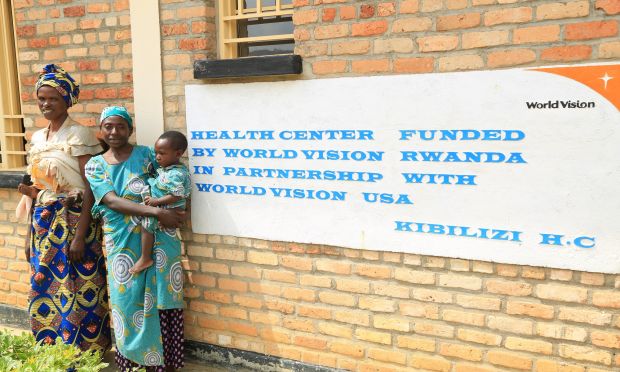 When asked what World Vision (WV)'s greatest contribution has been in the former Karaba Area Program (AP), Chantal ponders the questions for few seconds before responding. "Of course, it's the Kibirizi health center," she says with a nod. Located in Kibirizi sector, Kibirizi health center is among the most modern health facilities found in Nyamagabe district, in Southern Rwanda.
Despite substantial efforts by the Government of Rwanda to provision of quality health care services, various problems related to achievement of the universal access to affordable quality health care services remain. It is in this regard that WV funded the construction of the Kibirizi health center to significantly improve access to services related to child and maternal health.
Chantal is a 36-year-old mother of four. She often comes to Kibirizi health center to get treatment for her or her children. Before the construction of the health center, people in Kibirizi and especially women and children did not have an adequate access to health services. "We had to walk for 4 hours to get to the nearest health facility," says Chantal. The situation was more critical for pregnant women who needed quick medical interventions. "When I was pregnant of my second born, I almost delivered the baby on our way to the hospital due the long distance. I was really scared for my baby's life and mine as well," Chantal recalls.
Between 2012 and 2015, World Vision, in partnership with other development actors, funded the construction of Kibirizi health center and provided equipment (chairs, beds, sheets etc.). Today, the health center serves a population of 23,743 individuals with different health services such as antenatal, post natal consultation, vaccination, family planning, care and treatment for person living with HIV/AIDS etc. 
For Marie-Leonne Uwizera, manager of Kibirizi HC, the health center has brought a positive transformation in terms of improved access to health services. More women deliver at the health center, more children are vaccinated and more lives are secured. "Each month, 15 to 20 women deliver here, 30 to 40 children are vaccinated and more than 2000 individuals have access to family planning," Uwizera explains.
 More importantly, community outreach has been improved through training of 324 community health workers who have contributed to the reduction of child malnutrition and promoted good hygiene practices in communities surrounding Kibirizi HC. 
"This was a neglected place for a long time," Uwizera recalls. "In the past, for example, community health workers didn't vaccinate children in the remote areas because of the long distances they had to cover. But then World Vision trained and equipped them to reach all the villages in Kibirizi. Now, healthcare is a community priority, health visits occur regularly in villages."