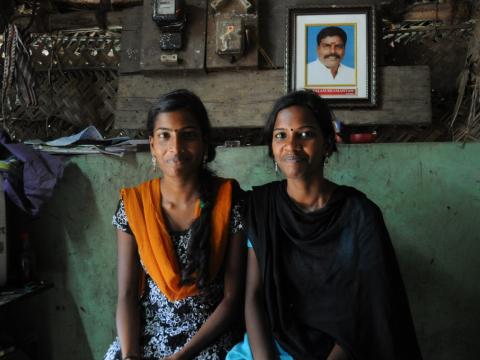 Lending a helping hand, from the beginning until now
Tuesday, December 23, 2014
"When we saw people running and the huge waves, no one in the village knew what was happening. People were shouting 'run to a higher place.' So we all ran to the temple which was the highest place around," says Sangeetha.

"I was very scared. The fear made me sick, I started vomiting and feeling dizzy," she adds, recalling those horrifying memories from 10 years ago.

REMEMBERING HELP THAT ARRIVED
"When we were scared and hungry, the first day after the tsunami struck, World Vision was the first to come and help us," says Lalitha. "They gave us bread, biscuits the first day and the next few days they gave us cooked food and the following weeks they gave us two to three weeks' worth of ration. That was really very helpful at that time."


In the months following tsunami, a lot of uncertainties and hurdles emerged. Lalitha and Sangeetha were worried about their end-of-year final exams.

Like all other children, they too could not study properly, the classes were not regular, and a lot of children were traumatised and couldn't concentrate on studies. 


"The sight of dead bodies being carried in vehicles, the bodies of small children and babies, disfigured and decaying … those are images I will never forget," says Sangeetha.

"Thank God! The government decided to pass all of us to the next grade, that year," she adds with a smile. "In fact, that helped us to continue our education, without losing interest and dropping out."


RESTARTING THEIR BUSINESS

The family lost their small business too. World Vision India, through its microfinance wing, helped start their business again, by giving a loan.

Lalitha and Sangeetha's father used the money to start a business renting out tents, chairs and other items for functions and events.

Later he expanded the business to start a small eatery near the Velankanni Church, which is one of the largest Catholic pilgrimages in the country.

 The government paid the school fees. And the income from the small business that World Vision helped start, took care of their daily expenses.

LOSING THEIR FATHER
Two years ago, their father died. 


"A few months after tsunami, World Vision gave us a medical assistance card. We used that card at that time at the local hospital, to get my father's kidney problem treated for free. He was cured," says Lalitha.

But his health suddenly started deteriorating.


"My father was a very strong man. He would always encourage the both of us to do well in our school and come up in life," says Lalitha, the eldest of the two sisters. 


With their father's income gone, the family now survives on the income that their mother brings by selling food to tourists and pilgrims during the weekends at the Velnakanni Church.

HOLDING ONTO RESPONSIBILITY & DREAMS
"When the tsunami waves started coming into the village, my father made me hold my sister's hand and asked me take her to safety. I felt so proud that he trusted me to save my sister. With him gone now, I feel that I'm still responsible for my sister and my family. I will not let go of her hand," says Lalitha with a sense of determination and responsibility in her voice.


Right now, Lalitha is doing her doing her Bachelors in business administration and Sangeetha is doing her bachelor of arts in English. 

"Once we complete our education and get a job. All our struggles would be over," says Lalitha.
World Vision India has promised to fund their college fees until they complete their degrees.