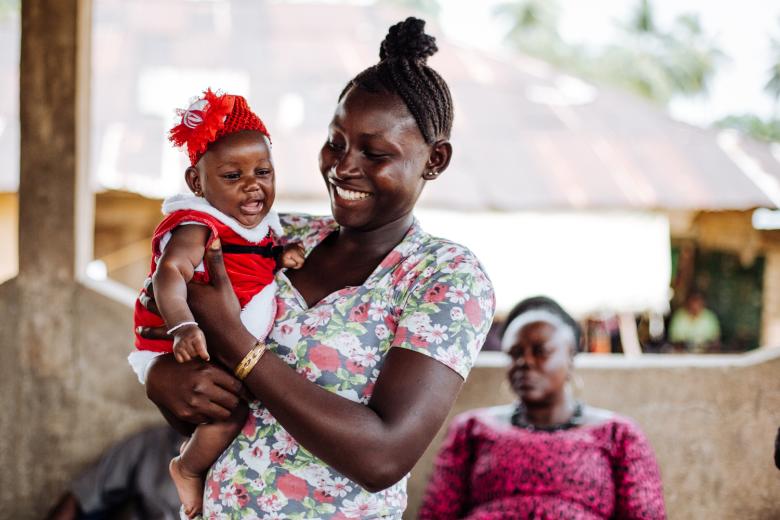 My second baby is alive because of 'Mamaneiva'
Tuesday, February 26, 2019
Baindu is a resident of Bum Chiefdom Bonthe District Southern Sierra Leone. The 26-year old could have been a mother of two if she had not lost her first child to malnutrition. She now nurses her 3 months old baby with lots of memory of her early post-delivery days:
"Before the 'Mamaneiva' (Grandmother) Inclusive Approach Project was brought to our community, I had a pregnancy and lost the baby due to malnutrition, two months after I gave birth because of lack of knowledge on how to take care of my baby. I wish World Vision had come earlier with this 'Mamaneiva' (Grandmother) Inclusive Approach Project. But I thank God that they are now here and I am now a proud mother with a beautiful and healthy baby girl.  When I was pregnant members from the 'Mamaneiva' (Grandmother) Inclusive Approach Project were visiting me. Each time they visit, they will advise me to go to the hospital for routine medical check. They also taught me a lot about hygiene and the nutritional needs of my baby and myself. When I delivered they gave me strict orders to breast feed my baby exclusively for 6 months. My labour lasted less than an hour; it was breastfeeding that was challenging for me. It took a while before my milk started flowing. My daughter was crying day and night. I can still remember how I tried to give the baby water to keep her calm. But I thank God I didn't." 
Baindu could hardly endure the scene of her baby crying and was on the verge of giving up the notion of exclusive breastfeeding when a member of the 'Mamaneiva' (Grandmother) Inclusive Approach Project Diana Nyukeh, knocked on her door for a postnatal visit. Diana as an experienced grandmother knew the frustration Baindu was going through so she took Baindu through proper breastfeeding techniques again and advised her on the importance of exclusive breastfeeding for the first six months of her baby's life. Baindu is now a proud mother willing to show the world the healthy looks of her baby. 
"Thanks to Grandmother Diana! I am now more comfortable and less frustrated about breastfeeding. My breastmilk flows very well and my beautiful baby is always well suckled. You can see how healthy she looks and she is only 3 months old. Because of the 'Mamaneiva' (Grandmother) Inclusive Approach Project malnutrition is now a thing of the past in my community. Our children are growing healthy and we are also living a healthy life style despite our economic status. I really want to thank World Vision for this initiative, but I am also sadden by the fact that the 'Mamaneiva' (Grandmother) Inclusive Approach Project has come to an end. I only wish they could have stayed a little longer to empower us as young mothers to join these older women so that we can also introduce this wonderful initiative in other neighbouring villages. I would have really love to give back to others in other villages who are faced with my past predicament".
Breastfeeding has many health benefits for both infants and mothers. It is critical during the first six months of life as it is a complete source of nutrition for babies and helps prevent diarrhoea which is one of the major causes of death in infants. It also contributes to optimal cognitive development.
In Sierra Leone, World Vision trained elderly women in communities who are considered to be 'Mamaneiva' (Grandmothers) to provide health education at community level. Their main service is providing maternal and new-born care for pregnant women and new mothers at the household level.