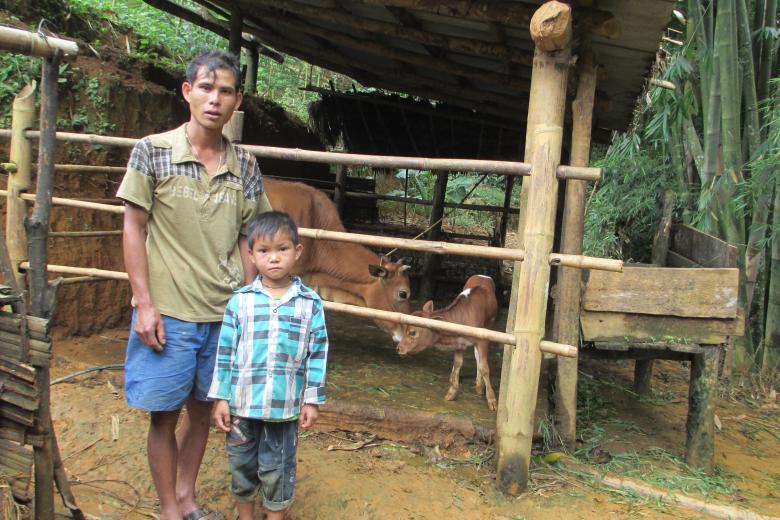 A Neighbourly Act
Thursday, December 4, 2014
Written by Nguyen Thi Thuong Thuong – Mai Chau Gift Catalogue Project
The happiness was clear on Yeu's face when he welcomed a new member of the family: a newborn cow destined to belong to his neighbour.
Yeu's son Thanh was equally pleased, spending all his time taking care of the calf and its mother. He said: "I want to look after them and I think she'll have more calves."
Born to an underprivileged family, Yeu was denied the chance to go to school, so with his employment options extremely limited after he married and moved out of his parents' home, his new family slipped into worse poverty.
With no savings or business experience, Yeu was forced to grow what crops he could on a small, sloping field and had to borrow money from his relatives and neighbours for food and other necessities.
As his debts mounted, Yeu was faced with the prospect of having to withdraw his children from school due to the costs involved – until World Vision gave him a valuable gift: a cow. "Having a cow is a big deal and something I'd never had or even dreamed of having," the father says.
In June and July 2014, World Vision gave 44 cows to poor households living in Mai Chau in Hoa Binh province, with each cow benefiting two families. Under the programme, which is part of the organisation's 'Gift Catalogue Livelihood Initiative', one household takes care of the cow and then its first calf is given to the partner family after it no longer needs its mother's milk.
Participating families are given materials to construct enclosures for the livestock, while also learning how to make organic fertiliser for grass to feed their animals and effective techniques to raise healthy cows.
One month after receiving the animal, Yeu's cow gave birth to a calf, with his neighbour and fellow beneficiary Lo Thi Ich saying: "We'll take the calf when it doesn't need its mother's milk anymore. It's a female calf, so we'll take care of it to breed healthy calves in the future."
The two families have the same simple dream: having enough money to buy clothes and food for their children. By selling the cows that they can now breed, their dream can come true.
Ha Thi Nga, deputy manager of World Vision's Mai Chau programme, says: "Cows are precious assets for the farmers."