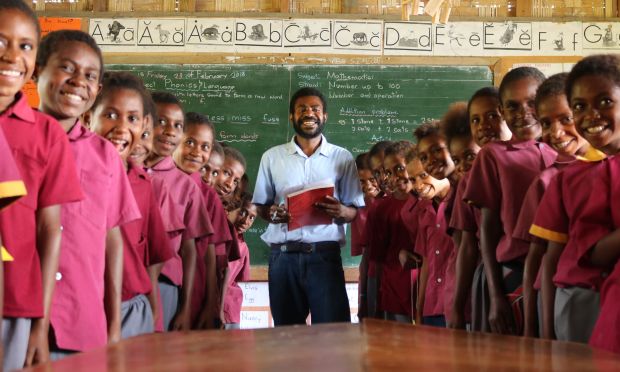 The Together for Education Project, supported by the Australian Government, will enhance access to quality elementary education for girls and boys in Central, Madang and Morobe Provinces of Papua New Guinea. It will focus on improving literacy and numeracy skills through engaging parents, caregivers, communities and teachers, as well as ensuring appropriate learning materials and child-friendly learning environments.
World Vision leads a consortium, which includes Child Fund, Consultative Implementation and Monitoring Council, Library for All and the University of Canberra to deliver the Together for Education project. The consortium is working with children, schools, communities, National, Provincial and District Education Departments and church education agencies to achieve results for the children of Papua New Guinea.
The Project recently conducted baseline surveys in remote communities in Middle Ramu and Usino Bundi Districts in Madang Province and Markham and Nawaeb Districts in Morobe Province to understand the current literacy and numeracy levels of early grade learners.
Eliot Raphael, a community leader in Markham District, says he is happy to have Together for Education conduct a baseline assessment with the elementary schools, as he believes literacy levels have dropped tremendously in recent years.
"We have huge primary and high school drop outs in Markham District because our children cannot read and write and so cannot answer questions correctly in their exams," Mr. Raphael said.
Accessing quality education remains a challenge for most children in rural areas in Papua New Guinea. Around 8 out of 10 children complete primary education, but almost half of those who graduate are unable to read. Building a strong foundation for early grade learners provides a pathway for their future learning.
The Together for Education project supports the Government's National Education Plan 2015-2019. It is part of a K112 million education partnership over a three-year period between Australia and the Government of Papua New Guinea to achieve inclusive, quality education as a foundation for a fulfilling and productive life.