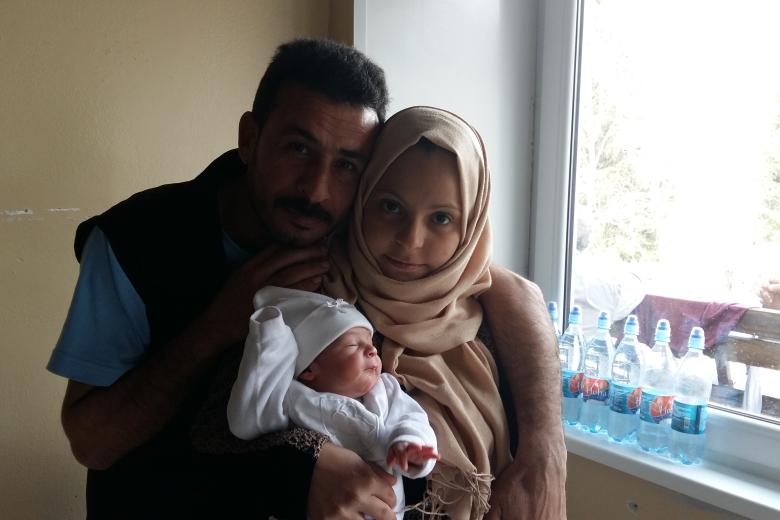 A new life arrives in Serbia
Thursday, April 21, 2016
Ola Ala Abdala, 21, is Syrian refugee and the mother of two children. She was 18 when she married her first husband who died during the conflict. Ola had one child with him whom she had to leave with her in-laws.  Her town of Al-Muhassan was bombed frequently over the past four years. Her home was damaged by bombs twice and just before she started her journey, it was completely destroyed.
Ola was almost 8 months pregnant when she left Syria with her second husband, Kaisar Al Saleh, 35, and two of Kaisar's sons from his first marriage ages 2 and 4. To make the journey, they had to take a loan from the bank.
As a result of her advanced stage of pregnancy, Ola suffered from fatigue, nausea and dehydration during the journey. "The worst part of the journey was in the boat and in Greece," remembers Ola. "It is much better in Serbia," she says, "but this uncertainty of not knowing what will happen is terrible."
World Vision's staff members Iva and Rami, working under a special protection program financed by ECHO, met Ola and her husband at the Adaševci Reception Center for refugees. "She was very scared since no one from her family could be with her during the labor, "recalls Iva of when she first met Ola.
As Ola's due date grew closer, her anxiety grew stronger. She wanted her child to be born in Germany and she was afraid that the border would open while she was in the hospital and that Kaisar would have to leave her with the newborn. "I was afraid of loneliness and foreigners who did not speak my language", says Ola.
Because of her fears, she refused to go to the hospital or infirmary. After she met Iva and Rami, however, her life has changed. "When I met Iva and Rami, all my fears started to disappear. It is as if God sent them to help me," says Ola. Iva and Rami spent hours talking with Ola and Kaisar supporting them and trying to persuade her to go to the hospital.
An obstetrician, Rami has a lot of experience which helped him when he talked to Ola. "After hours of talk, Ola became calmer and eventually agreed to go to the hospital," says Rami, "I continued to talk to Ola over the phone while she was in the hospital, trying to calm her and help her focus only on giving birth." After two days in the hospital baby Omar was born and all the frustrations, fears and uneasiness were forgotten.  
Ola left hospital after two days and she reunited with her family. "Now all we want is safety and peace for our children because we want to continue our new lives far from fears and sufferings," says Ola.
World Vision brings hope and joy to refugees in Serbia by making their journey a little bit safer and a little bit more bearable. To date, the World Vision team has supported more than 14,000 refugees through this special program.

This program is funded by European Community Humanitarian Office (ECHO).
More information about Echo: http://ec.europa.eu/echo/