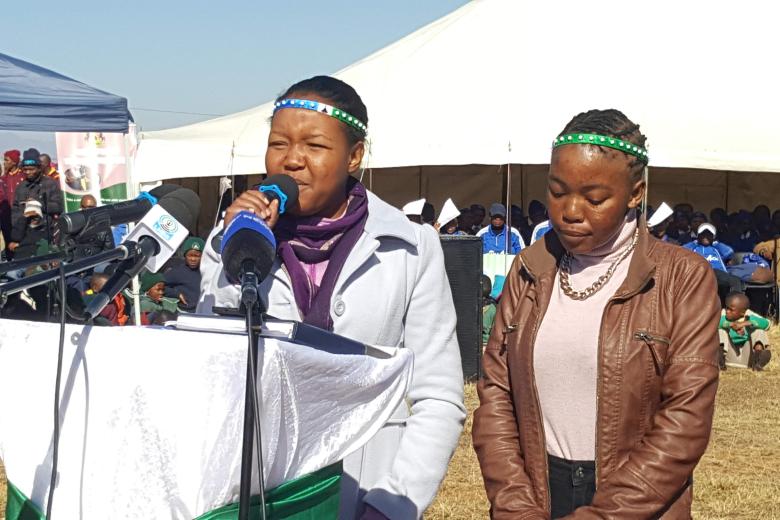 A new twist to the Day of African Child
Saturday, June 23, 2018
"Do you know how old was I when I got married? I was 12 years old. My teacher had given us an assignment to go back home and ask the meaning of a certain word. I was abducted and forced into marriage along the way, and here I am today, So she'll survive" These were the words spoken by an actress playing a mother to her friend after her son had abducted a 15 year old girl to make her his bride.
This remarkable play was presented by a group of boys and girls during the commemoration of the Day of African Child in Maputsoe, in the district of Leribe. Although the story was fictional, it exposed the agony child brides face when they are forced into marriage.
"So, allow me to remind you that a child is anyone under the age of 18. This is supported by the United Nations Convention on the Rights and Welfare of a Child - 1989 and Children's Protection and Welfare Act - 2011 (CPWA 2011)," Mampiti Mabaso, a young journalist and a member of Children's Parliament from World Vision Lesotho's Sefikaneng Area Program reminded hundreds of people who had come to witness the events of the day.
The commemoration, whose programme was co-directed by a child, was graced with the presence of Her Majesty the queen of Lesotho - Queen 'Masenate Mohato Seeiso; Lesotho's Deputy Prime Minister - Monyane Moleleki; Minister of Social Development - 'Matebatso Doti, and Development Agencies.
This year's theme for the event was "Leave no child behind for Africa's development." Mabaso unpacked this to government and development officials, reminding them this means that children should enjoy their right to participate on issues that concern them, which includes the right to be informed and the right to be heard, as  CPWA 2011 commits."
While strides are being made in Lesotho towards ending violence and child marriages, the efforts are crippled by conflicting child protection laws and customary laws.
"We have the Laws of Lerotholi, which were put into place without an input from the children. In these laws, we find Marriage Act of 1974 which suggests that an 18 year old boy and a 16 year old girl can get married," she cited.
The Child Protection and Welfare Act 2011 says that anyone below 18 years old is a child; "But if the children were invited to give their opinions during the formulation of Marriage Act 1974, I promise you ladies and gentlemen, this would not have happened," Mabaso concluded.
Delivering her keynote address, Her Majesty Queen 'Masenate Mohato Seeiso said this year's commemoration serves as a reminder to Lesotho's government of their responsibility with regards to children's rights in accordance with the Africa Charter on the Rights and Welfare of a child.
"My appeal to all stakeholders here present, including our industrialists as employers, is to strengthen our collaboration and cooperation for the betterment of our children who are the future leaders," Her Majesty pleaded.
"Children learn by observing. If the parents and caregivers fail to nurture children today, children may not have anywhere to learn. You have heard, ladies and gentlemen, when they plead their case before us today, asking how will they take care of us when we are failing to do so," Her Majesty emphasised.