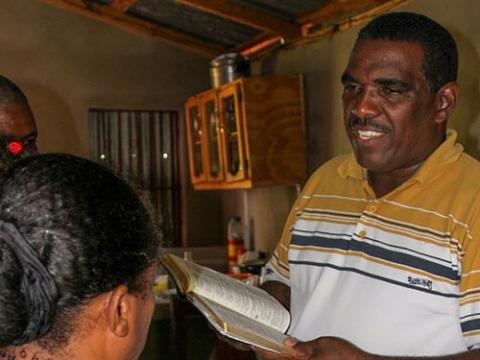 New vision, new hope
Wednesday, August 26, 2015
Sabana Perdida is a community of mostly unpaved streets and slopes that end at the banks of the Ozama, a big river bordered by the most marginalized and vulnerable slums in Santo Domingo, Dominican Republic. For many people, this is a place full of misery and danger, but for Pastor Domingo Aybar, it is full of love, mercy and hope.
For years, this pastor served in the little church "Meson Celestial" (Heavenly Inn), focused and concerned only with the spiritual growth of the people in his church. Until one day, he received an invitation that changed his ministry forever. He agreed to participate in a World Vision meeting, where he heard of the problems of the community and its inhabitants.
"I remember sitting in a classroom, along with other church leaders, and when asked if I could help a person living with HIV, I immediately said no." Pastor Aybar loves God and was willing to do His will, but the cold and emotionless answer was only the result of ignorance and unfounded fear that, for years, made him and others associate HIV with sin, causing rejection within the church.
This meeting was part of the Channels of Hope program, a World Vision methodology that guides faith leaders and churches on how to respond to the issues of HIV and AIDS, maternal and child health, gender equity, gender-based violence and protection of children in their communities.
"I did not understand what all this had to do with my work and ministry. However, God called me to learn how it is produced and discover the reality of people living with the disease. A transformation of my vision began." 
After a three-day journey, pastor Aybar admits that he returned home with his heart touched by God. He sat down and made a list of everyone he thought, or suspected that could be living with the virus. "It was difficult to identify them," he admits. "We live in a society where people with HIV are afraid and are usually rejected."
From that moment on, pastor Aybar started visiting and caring for HIV-infected people in the community and nearby towns. "When we identify a case, we care and give spiritual support. In case they need retroviral and vitamins, we refer them to World Vision," he says.
When the need goes beyond

One day, while the pastor was visiting a family who lives with the disease, he felt moved by the state in which they were. "The house was destroyed and they lived in deplorable conditions." After leaving, he visited World Vision office in the community and expressed his concern. All they mobilized and integrated the family to a special project to rebuild their home. "They got the materials to build a decent house. The mother of the family was in a state of very poor health, so World Vision staff referred her to a care facility in order to ensure that she received all the medication she needed."
Today, the family lives a normal life. They fitted out a space in their new home and established a small business to sells food to neighbours. This helps them move forward. "We are members of the World Vision support groups. There, we learn to support each other and continue our normal life," says the mother of the family.
Currently, more than 50 church leaders have been trained on the Channels of Hope methodology in Sabana Perdida and have covered the topic in their liturgies and sermons. Apparently, the stigmas are erased. Now, church members go to their leaders and tell them about people who need some support or monitoring.
The Program in Sabana Perdida has already identified 262 adults and children living with HIV. Some of them have received assistance based on needs and vulnerability. Usually they receive medicines, vitamins and spiritual accompaniment with the help of local churches.
After an agreement with the Comprehensive Care Unit of the Public Health Ministry, World Vision staff refers people who need monitoring in order to ensure their health; while the Ministry of Health refers newly infected people to World Vision so they get holistic monitoring. World Vision also holds support group meetings to share common issues and guide them in any need.
"Now, they call us when they have a problem, we try to solve it together," said pastor Aybar with a smile.
« Is it not to share your food with the hungry and to provide the poor wanderer with shelter-- when you see the naked, to clothe him, and not to turn away from your own flesh and blood? Isaiah 58: 7-11 »
« For I was hungry and you gave me something to eat, I was thirsty and you gave me something to drink, I was a stranger and you invited me in. Matthew 25:35 »