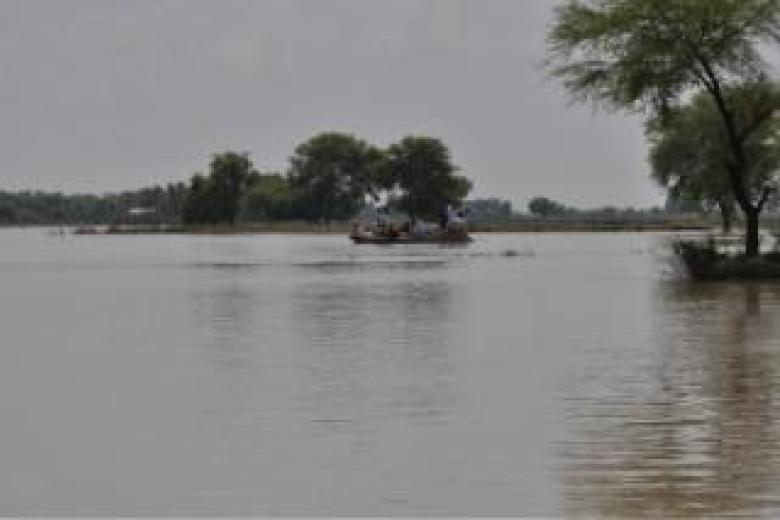 News: Over 5 million affected as floods continue to cripple Southern Pakistan
Friday, September 16, 2011
"In Badin, Sindh's worst-hit district, this year's flooding is even worse than last year's," said World Vision Pakistan's National Director, Alexander Davey. "In the last month alone, the number of flood-affected people has more than doubled. A quick, well-coordinated relief effort is urgently needed to reach children and their families who have lost everything."

It's estimated that about half of the 5.3 million people suffering as a result of the floods are living in just two of Sindh's 23 districts, Badin and Khairpur - where World Vision is working with communities to respond to their most pressing needs.

Last week, the Government of Pakistan called for international aid to help flood-affected families who had only just started rebuilding their homes and lives, after floodwater submerged one-fifth of the country little over a year ago.

World Vision has been working with partners in Badin to reach 6,650 people, so far, with essentials such as shelter, hygiene kits, water purification tablets and mosquito nets.

"Many in Sindh were already living in extreme poverty – but now people are being forced to squat on roadsides, without a roof over their head or any means of putting food in their mouths. Entire communities have been cut off from the outside world," Davey said.

Recent assessments put child mulnutrition at emergency levels in Sindh, even before this most recent bout of flooding. With families unable to harvest swamped crops once again, children are in desperate need of nutritious food to help them survive this second disaster.

In response to last year's flooding, World Vision established 14 therapeutic feeding centres in Sindh, but now with the new rains and hundreds of children arriving daily these centres are stepping up emergency operations.

World Vision health workers assess the children before submitting them for round-the-clock healthcare or referring them into a supplementary feeding programme for no less than two months.

"Rehnaz was getting weaker by the day – other children her age could walk and play, but she couldn't even move," said Mobeena about her two-year-old daughter, who was submitted to World Vision's therapeutic feeding programme centre in Sukkur district, northern Sindh, just a few weeks ago. "Even now, just with the treatment at the centre, she is getting better every day. She doesn't get fevers anymore and she already has the strength in her legs to walk a little."

In other areas of Sukkur, where flooding has completely surrounded villages, marooning communities, mothers not only have concerns for their children but are also worried about how they will be able to survive when the floodwaters recede.

"We managed to save our food in the house this year - the rice, potatoes, tomatoes – but our crops are covered in water. All the food we are buying is on credit. If we have any crops left when the water goes, then I must pay them back. If there's not, I don't know what we'll do," explained Sehat Kalhoro, a 35-year-old mother of seven.

World Vision plans to extend its emergency relief operations in northern Sindh, continuing to help vulnerable children and their families through this devastating flooding, while working with partners in the south of the province to provide for the immediate needs of displaced communities there.