Out of food in Mauritania
Monday, January 23, 2012
Teyib Ould Mohamed's situation is heart breaking. He lives in Mbeidiya village, Dar Elbarka district, where World Vision Mauritania has an established ADP.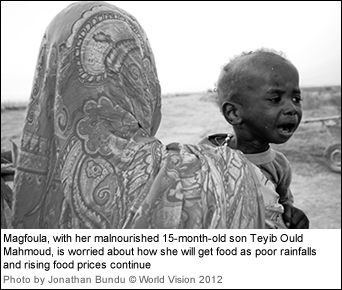 Teyib has been malnourished in the past. His mother Magfoula Mint Abeidy took Teyib to the local health centre World Vision established to provide quality health care services for children and a special programme for the rehabilitation of malnourished children. "When Teyib was brought to the centre, he weighed only 4.5 Kgs which is not a normal weight for a 15 months old. We provided Teyib with vitamins and nutrition education," says Oumar, the head of the health post says.
After the mother and son were admitted at the centre for 3 weeks, Teyib gained 6kgs and was feeling better. 'I was happy that my Teyib gained some weight, but with the drought situation, he has become malnourished again," explains Magfoula painfully. This year's harvest has been poor. The rice will only last last a month or even less as Magfoula will have to sell huge portions of it just to get money for other basic needs, she explains further. "When our rice is finished, and if we don't get any external support, my Teyib - my first and only child for now - will die," she adds painfully.
The drought situation this year is worse; there has been severe lack of rain, food is either unavailable or unaffordable because it is extremely expensive. The consequences of the drought have been dire.
They include:households selling animals and animal products such as milk to buy food; the reduction of the number of meals per day from three to two; the sending of young family members (girls and boys) to the cities to find jobs as housemaids so that they are able to send money back home; a general exodus of population from rural areas to the cities, and moving of pastoralist community members to the South in search of green pasture for their cattle (the latter, is also leading to overgrazing in the areas along the Senegal River, and has been creating conflict among herders, and between herders and crop producers); children forced to drop out from school; borrowing, picking and selling of firewood, which lead to deforestation.