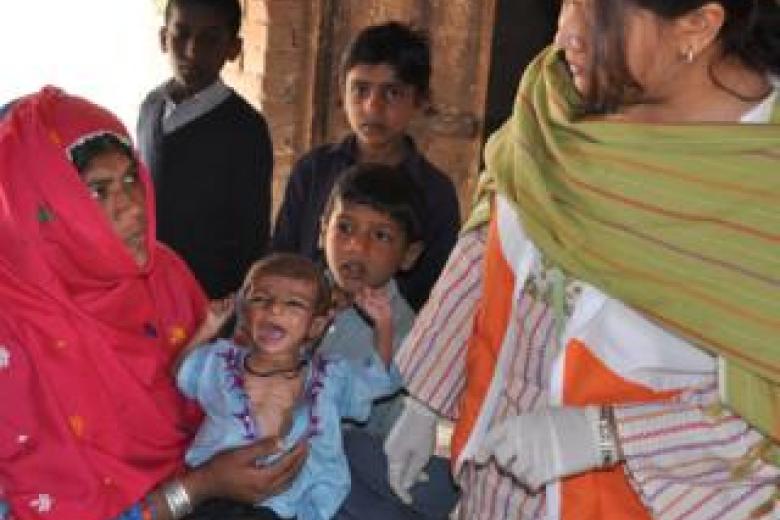 Pakistan still in crisis six months after disastrous floods
Wednesday, February 2, 2011
As the world's focus turned to Pakistan, World Vision supporters from more than ten countries responded generously with US$24 million in total funding, thus enabling World Vision to reach more than 900,000 people in 11 districts of the Khyber Pakhtoonkhwa (KPK), Punjab and Sindh provinces.

This was among the worst malnutrition I've seen in any country in more than 20 years with World VisionWorld Vision continues to assist via multi-sectoral programmes including food and non-food item distribution (i.e.: blankets, cooking supplies, etc.), shelter provision, health and nutrition interventions, water, sanitation and hygiene interventions, early recovery and livelihood development, and the creation of Child and Women Friendly Spaces.

Despite the humanitarian community's successes in reaching large numbers of people, the flood crisis continues to evolve as attention for the emergency and recognition of dire needs, especially among children, fades. And as the waters recede and winter sets in, new issues trouble the flood-affected.

The problem of child malnutrition, though a persistent cause of concern in Pakistan, has further been exacerbated due to the floods, endangering hundreds of thousands of children.

"I met a mother and her one-year-old son, Daim, at a mobile health post World Vision has set up. He was so severely malnourished, very distressed, and crying without ceasing. Daim is one of six children in a very poor family that trekked 20kms to escape the floods and then back again just a few weeks ago." said Justin Byworth, World Vision UK's Chief Executive.

"This was among the worst malnutrition I've seen in any country in more than 20 years with World Vision – I know I will never forget the haunting look on Daim's face, nor the anguish on his mother's."

According to recent nutrition surveys conducted by UNICEF, the province of Sindh alone shows an alarmingly high 23.1% rate of global acute malnutrition among children under the age of five in the north, and a rate of 21.2% in the south.

The state of agriculture in the country has been hit hard as well with more than 2.2 million hectares of standing crops lost. Not only has Pakistan lost those crops from the previous farming season, it also means that unless urgent action is taken now to rehabilitate the fields and provide farmers with seeds and tools, the upcoming April farming season and crops will also be lost.

And hundreds of thousands of people remain displaced in temporary camps, struggling to find food and fighting the cold, shivering in tents set up beside their destroyed homes.

"We still have a daunting task ahead to save lives and protect the health, nutrition, education, and safety of children and women, but require continued funding to do so," said Bernard Borkhoche, World Vision's Humanitarian Emergency Assistance Response Manager in Pakistan.

...hundreds of thousands of people remain displaced in temporary camps, struggling to find food and fighting the cold, shivering in tents set up beside their destroyed homesAs the humanitarian response transitions from emergency to recovery and rehabilitation, millions still remain without food and shelter and are still looking at an uncertain future in relief camps, while millions of others struggle to start afresh, waiting for assistance on the long road to recovery.

World Vision Pakistan employs more than 600 local and expatriate staff, with office bases in Islamabad and field locations.

World Vision has worked in Pakistan since 1992, focusing on a multi-sector emergency response through innovative emergency relief, early recovery and development programmes throughout the country.

6 Month Achievements*:


247,651 people received urgently needed household supplies including tents, shelter kits, soap and toothpaste, cooking supplies, bed sheets, blankets, buckets, mosquito nets and mats.
374,500 people received food aid in Punjab, Sindh, and KPK provinces.
16,116 children were able to play together in 24 Child Friendly Spaces, giving them an opportunity to bring some normalcy into their uprooted lives by interacting with their peers in a supervised, safe environment.
198,663 people received health consultations and care through basic health units and nutritional services, including pregnancy and lactating women. Malnourished children under five benefitted from Community-based Management of Malnutrition activities in Punjab and Sindh.
273,000 people benefitted from water, sanitation and hygiene interventions, including construction of latrines, bathing places, washing places, installation of water tanks, hand pumps, distribution of water purification tablets, health and hygiene promotion sessions, distribution of hygiene information material and kits, and the formation of water and sanitation committees.
41,797 people benefitted under early recovery programming, including the rehabilitation of 1,187.5 acres of agricultural land. World Vision also provided 26,000 kg of certified wheat seed, 400 agricultural tool kits, planted 10,000 trees and reconstructed 210,000 feet of badly damaged irrigation channels through cash for work activities.
400 certified goats were distributed to 200 vulnerable women-headed households and 296 women received poultry (10 chicks per person) along with livestock/poultry management skills. Some 700 small shopkeepers received small business training and a cash grant.

*(Numbers may vary because people may have received assistance more than once in various forms).