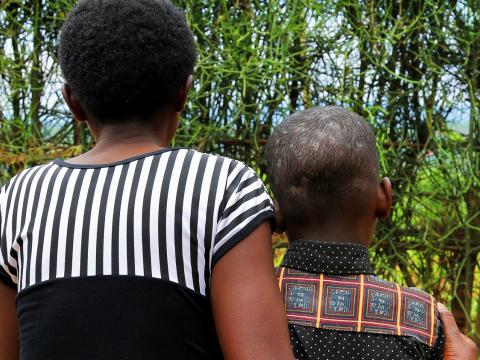 Partnering for child protection: Lawyers of Hope and Inshuti z' Umuryango
Tuesday, April 3rd 2018
 *Names and identyfying details have been changed to protect the privacy of individuals.
Kevin* is a seven-years-old boy who likes playing football with his friends at his school. He lives with his mother, Theresa*, and his maternal grand-parents in Jabana sector of Gasabo district in Kigali city. Today, Kevin enjoys his rights as other children in Rwanda but this has not always been the case: his mother had to fight for the father recognition and parental care of her son. 
Recognition of a child simply means accepting that the child is yours. In Rwanda, The person to recognize the child, according to article 265 of the law governing persons and family, is that child's father or mother. After a child has been recognized by his/her biological parent, such a child has the right to care from the parent who has claimed responsibility. 
Kevin was born out of the wedlock as his mother got pregnant from a relationship with a married man from her neighborhood. It is after the birth of her son that Theresa started having problems with the father. "He did not want to provide financial support nor did he want to recognize his illegitimate son", Theresa explains. She decided to lodge a complaint at the Jabana sector office but this did not give any result as the father, a rich businessman well known in the area, had good connections with the local authorities. "For two years, I fought for my son's rights and I could not see any positive result," Theresa recalls.
By chance, Theresa met with a volunteer from Inshuti z'Umuryango (Friends of the Family), a community- based child and family protection group of volunteers, who put her in contact with Lawyers of Hope, a network of lawyers offering free judicial services to people. With the support in mediation from both Friends of Family and Lawyers of Hope, an amicable agreement was made between Theresa and her son's father. Kevin was legally recognized by his father who also agreed to provide the necessary child support. "I am thankful for the legal support I received, my son is no more fatherless," said Theresa.
World Vision Rwanda (WV Rwanda) has been partnering with Lawyers of Hope in the past years to reach out to vulnerable children and their families to seek justice on their behalf by providing legal aid through legal education, advice and representation. Through this partnership intervention, six cases of child abuse have been managed while 199 children have been legally registered into the Civil Registration.
In addition, Lawyers of Hope in partnership with WV Rwanda conducted training to strengthen child protection structures on the roles and responsibilities of parents and community in general towards child protection in Buliza AP. During this training, 110 Friends of the Family were trained about child protection, reporting child abuse, protection of child rights, basic and developmental interest, etc.
For Kevin and other children in Buliza AP, WV Rwanda partnership with Lawyers of Hope and Friends of the Family has brought access to justice and recognition of their rights.
"We shall continue working at the community level to insure that every child enjoys his/her fundamental rights and that every parent and care-giver is aware of those rights and should not infringe on them," said Aline Niyodusenga, project officer for Lawyers of Hope.