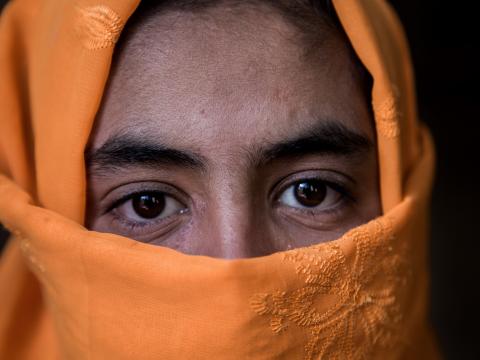 Passing through thorns on the path of hopes and dreams
Sunday, November 19, 2017
On a brisk November morning, Amana wakes in her childhood home on a bed shared with her two younger brothers and sister in her family's one room house. She can smell the morning dew on the grass outside and smiles, remembering her mother who told her, "if you wash your face with the fresh dew on the first day of each winter month you will always be youthful". She has thought about this every cold morning since her mother passed away one year ago.
Yesterday, Amana learned that her father had arranged for her to marry one of his relatives. In Afghanistan, poor families often marry their daughters off for a bride price, or dowry, which can go to covering basic expenses. Amana's father wanted to use this money to remarry and buy food for his other children. Sent to live with her husband's family, Amana would also be one less mouth to feed. Thinking of this, her smile quickly fades. She is 13 years old.
Her heart overwhelmed with the hardships she has suffered and the pressure her father was putting upon her, Amana finally gave in and accepted the decision. She was prepared to bury her dream of becoming a doctor, as her ambitions no longer fit within the narrow confines of tradition and her father's expectations.
It wasn't until she decided to walk into World Vision Afghanistan's (WVA) street children counseling room that she discovered there was someone who could rescue her from a hopeless future. World Vision Afghanistan, through the Street Children Enrichment Centre, is committed to helping vulnerable kids like Amana change their stories for the better.
Through the eyes of an Afghan girl
World Vision (WV) estimates that between 8,000 to 10,000 children work the streets of Herat, routinely foregoing the simple pleasures of childhood to earn money to survive.
Amana was just 12 years old when she lost her mother to an unknown illness. Since then, she has been forced to fill the role of mother to her three younger siblings, along with tending to all of the chores of a housewife. Her mother's illness was exacerbated by poverty. "[She] had gotten very weak," Amana says. "We didn't have the money to buy medicine and good food for her."
While other children do their homework in a comfortable, safe home and dream of their futures, Amana and those in similar situations are left largely alone to bear the burdens and anxieties of poverty. Girls, especially, carry a disproportionate amount of this weight in Afghanistan.
Traditionally, Afghan girls are viewed by their fathers as dispensable property, with those from poor families the most vulnerable. Annually, more than 2,000 women and girls attempt suicide by setting themselves on fire. According to experts this is mostly due to early and forced marriage and domestic violence. According to a 2016 UN report, 57 per cent of Afghan girls are married before the age of 19. About 40 per cent of these marriages occur between the ages of 10-13; 32 percent at age 14; and around 27 percent at age 15.
Waiting for hope
Amana's father grew angry when she pleaded with him not to marry her off. "I cried a lot," she says. "I didn't eat dinner that night. I didn't want to wake up in the morning. I wished I could go where my mother was – under the soil." The man she was going to marry was much older. "He is fat and is the same age as your father," she remembers her aunt telling her.
Having no one to share her concern with, Amana remembered what a WVA counselor had once said in a group counseling session for children at the centre: "If you have any problem, just come and talk to me."
She finally decided she could no longer keep her fears to herself. "She started to cry before she [even began] talking," Says Mr. Poya, the counselor at WVA's Street Children's Centre. "I let her cry to release her feelings of despair. When she felt better, she started telling her story."
Later that day, Poya and Abdul Salam, a local religious leader, met with Amana's father to discuss the consequences of early child and forced marriage, such as maternal and child health complications and domestic violence.
Abdul Salam approached child rights from an Islamic perspective. He explained to the father that, within the tradition, "Children have the right to be fed, clothed and protected until they reach adulthood. A child has the right to a good education and a stable environment in which to grow up. Hence, Islam pays particular attention to the rights of children and to the proper manner by which to raise them, so that they will be equipped to face the difficulties of life."
Being a religious man, Amana's father was persuaded not to marry off Amana. He agreed instead to focus on looking for another job to supplement the family's income.
World Vision's Promise
Amana has been at WV's Street Children Enrichment Centre for three years now; a few days ago she passed her school entrance exam and, because she has already learned how to read and write, can now start class three.
She is excited for what the future holds. "I want to be a doctor!" she says. "If I [had been] a doctor…maybe I could have treated my mother so she would be alive to see her daughter in a school uniform, a daughter [who] can read and write and knows a lot of poems and stories."
World Vision is close to signing a local level Memorandum of Understanding with the Herat Department of Religious Affairs, and another at the national level with the Ministry of Labour and Social Affairs to address the issue of early child and forced marriage. This relief can't come soon enough for Afghanistan's young women and girls. 
Faith leaders will play a key role in shaping Afghanistan's social norms due to their considerable influence in bringing about changes in attitudes and behaviours related to child and forced marriage. To address common misperceptions, WVA equips faith leaders with clear knowledge about marriage registration laws and the legal age of marriage for girls. Framing the issue around Islamic teachings will serve to highlight the ethical nature of the laws. 
In Afghanistan, child marriage is a traditional cultural practice, but it is also a social justice issue and a psychosocial and health issue. World Vision Afghanistan believes that every person is created in God's image and each deserves life in all of its fullness.
World Vision Afghanistan's campaign, it takes all of us to end child and forced marriage, aims to rescue the childhood of Afghan girls. Its name reflects the fact no one person, group or organisation can solve this problem alone.  All Afghans will need to work together as a society in order for justice to find its way into the lives of vulnerable Afghan girls. With justice comes positive control over one's life and decisions and a chance to pass through the thorny path of the present, into the garden of the future, where hopes and dreams are made real.