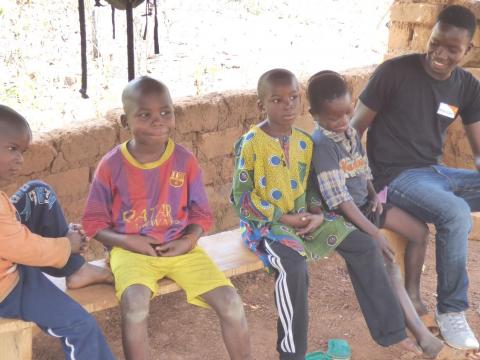 Peace clubs for sustained peace in the CAR
Monday, March 19, 2018
In September of 2013, infighting between various factions in the Central African Republic plunged the country into a humanitarian crisis, a situation that affected nearly half of the country's 4.5 million population.
As a result, two notoriously known armed groups took advantage of the country's fluid political situation and took matters in their own hands to become the 'defenders' of their own communities. These armed groups also recruited children to serve in their 'forces'. In 2014, World Vision assisted nearly 8,000 children in Damara, a sub-prefecture, 75 kilometres from the capital, Bangui-where it carries out child protection activities.

Through the support of World Vision and the community members led by their leaders, the children were rescued, rehabilitated and enrolled in peace clubs. Some returned to school while those who were beyond schooling years, were enrolled in vocational training.
World Vision's primary goal in doing this was to empower the children and young people to become agents of peace and promote peace-building initiatives in their own communities. A total of 4,944 children comprising 2,604 boys and 2,340 girls were trained on the culture of peace and social cohesion. 302 of these children comprising of 204 boys and 98 girls rescued from the armed forces and armed groups (ESFGA).
Besides the children, their parents and members of the community including their community leaders were trained on ways to ensure children are protected from harm. These included, referrals of abuses committed against children such as rape. In total, 30 men and 15 women participated in the training.  
The participants were persuaded to promote messages of peace, tolerance for each other and social cohesion when they go back to their households and communities.
One young girl's testimony: I lost two years of my youth
28-year-old Sabrina (an assumed name) a mother of two children reveals that she joined one of these armed groups out of anger.
"I joined this armed group because the other one group killed my family," she said.
Sabrina's father had travelled to Bangui to receive his retirement salary when fighters from this armed group killed him. She says these guys also killed her 32-year-old brother while he was at home.
"My brother tried to hide from those killers but they found him and killed him. My mother and I watched in horror and nervousness from our hiding place". They then went ahead and killed his three-year-old child at point-blank range using their rifles," a sobbing Sabrina described.
Between 2013 and 2016, Sabrina acted in loyalty under the orders of her "Force Commanders". Two years later, she considered that nothing justified her presence in the group and so she contemplated fleeing. "One day they sent me to the shops to buy some supplies. I took advantage of this opportunity and used the money they had given me to pay for my transport from Bangui to Damara," she explained.
Besides participating in the peace clubs, Sabrina also received skills training in tailoring.
She is eager to begin her own business of sewing in order to support her mother. "My brother who was killed by the rebels had a decent income to support the family, but he is no more. My other brother joined the army just after the death of our brother. I am alone with our mother, without any support".
In the peace clubs, we learnt the importance of co-existing with each other whether Christians or Muslims, avoiding generational conflicts, and respecting cultural diversity."
"Even more importantly, we were persuaded to protect children from any form of harm and in particular prevent their recruitment into armed groups."
Sabrina is persuaded that the fighting in her country has had nothing to do with the religion.
The notable impact of the peace clubs: one child's testimony
Since the peace clubs were established, there have been positive changes observed in the behavior of the children who are participating in the peace clubs activities.
"My name is Fatima (an assumed name). With my sister Aicha (an assumed name), we come from Batangafo where the fights continue between the armed groups. Thanks to this idea of the peace clubs, my sister and I who are from the Muslim community have been accepted in the community," Fatima shared.
"The clubs have taught us the importance of social cohesion and the culture of peace. They allow children to love their neighbor, to tolerate one another, and become enlightened on not only child rights issues but human rights. 
"We appreciate World Vision for everything it is doing for the children of the Central African Republic, particularly, those from Damara," Fatima said.
A total of 1,321 children (838 boys and 483 girls) who are direct beneficiaries, participate in the peace building activities in their schools every Sunday.