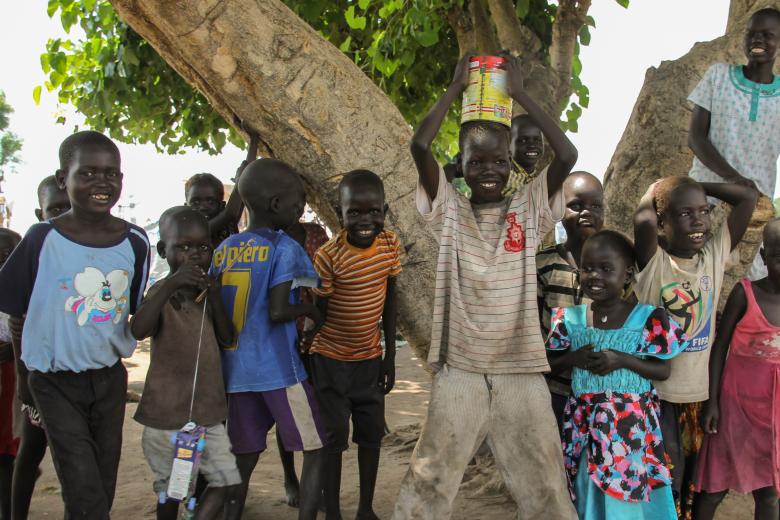 The Peace Deal one year on: Hope is dimming, but not extinguished
Thursday, August 25, 2016
It is South Sudan's rainy season and while the sky is still blue, heavy, rain-filled clouds are already gathering in the distance. Showers here are short but strong and merciless, a constant worry at the newly built internally displaced people camp in Gumbo. Most of the white tents are already up and will provide shelter from the rain, but some families are scrambling to finish their new, temporary shelters.  
South Sudan's president and opposition leader signed a peace deal last year in August, but one year on, people continue to wait for the actual implementations. With fresh outbreaks of fighting in Juba this July, thousands have yet again left their homes and those who had to move to the new camps are frustrated to say the least. There's one thing however, the South Sudanese won't do: They will not give up on their young country.
Over 2,500 people – most of them children – have arrived here in Gumbo, an outskirt of Juba where the camp was put up over the past weeks. The grounds belong to a Catholic church that was ready to help with the influx of recently displaced families.
Sitting in the shade under a tree, James and his two neighbours from his former community in Juba have all experienced a similar fate: Their houses and businesses were burned down and they have been left with nothing but the clothes they wore when the skirmishes broke out.
"I was at home when the fighting started, but my neighbours hysterically dragged me out of the house. We were running down the street when my house was hit," James, the19-year-old businessman recalls. "I came back two days later, only to find it burned down and dead bodies scattered across the area. I still don't know what happened to my parents."
James has lost everything, even though he was one of the many enthusiasts who celebrated last year's peace deal extensively. He firmly believed that his country was finally on the right track. He hasn't given up hope completely, but this summer's events have left him disillusioned, especially after his small kiosk was looted. "I don't know if South Sudan will go ahead or deteriorate. Right now we are not moving in the right direction. We need peace more than anything."
James and the other 2,500 people now receive daily support from World Vision, which includes essentials such as food and healthcare, as well as psychological assistance to help them through the crisis. "We run child-friendly spaces here in the camp and make sure all boys and girls are safe," explains World Vision's Protection Officer Marcello Emilio, who is also helping with food distributions and educational programmes.
Awadia, a mother of four is benefitting from these initiatives, and thankful that there are a few things to worry about less. "I'm discouraged," she says. "It took me a week to find my two oldest children, as we all ran in different directions when the fighting broke out. We are together again, but after last year's peace agreement, I really didn't expect more fighting. I'm still hopeful for peace, but I worry about my children's future. Holding her four-month-old son Mohammed on her lap, she lowers her voice, saying that her other children's fear is triggered every time they hear a gunshot.
Awadia often watches out for her new neighbour, Regina, who is only 17 and arrived in Gumbo with her parents. The teenager looks much older for her age, and even though she has lost her house to rebel fire, she makes an effort to wash her only two t-shirts regularly and to always look nice and dressed-up. Regina grew up in Juba, went to school there and was used to hanging out with her friends in the afternoons. This has all changed now. "Our house was burned down and we had to flee without any notice. We arrived at this camp empty-handed. A few weeks ago, it wasn't even a camp yet, but tents were build up quickly," she recalls. Today she doesn't know how long the family will be staying in their current makeshift housing.
"One year ago we signed a peace deal in South Sudan, and I am still hopeful," Regina says. "I can only go back to Juba when the situation has improved, so I firmly believe that it will. I still see a bright future for my country."
Looking into the distance, first over the white tents and then, further away, over the dark clouds and green hills of South Sudan, Regina's life has become intertwined with that of James and Awadia. "Over the past month, we have become a community," explains James, joining the conversation again. "We have all been through indescribable pain and maybe have lost a lot of our hope, but we can live together peacefully. I want to see the same peace across my whole country."