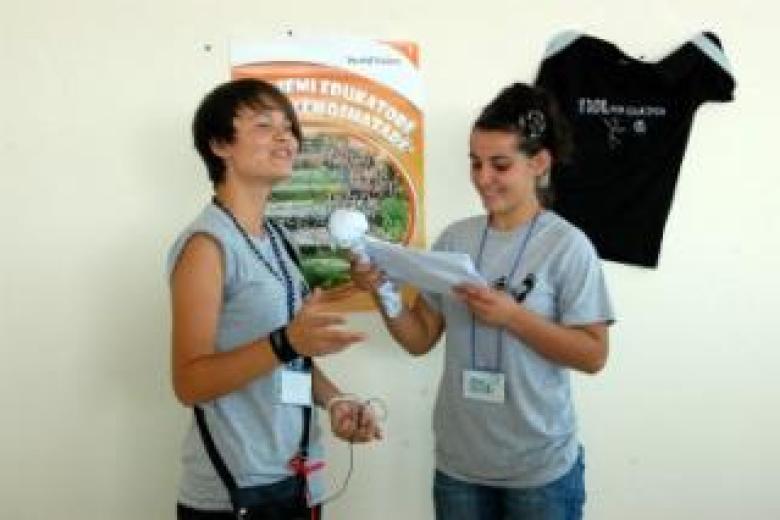 Peer Educators around Albania & Kosovo transmit messages for change
Tuesday, September 13, 2011
"To be a Peer Educator means to transmit messages for change, create an idea and make it a reality in the school and the communities where we live," says 15-year-old Ela from Elbasan. Her eyes transmit sincerity and will for a better tomorrow.Since she has become part of Peer Educators (PE), Ela has seen changes in her life. Changes that words cannot even describe, but the tears of joy in her eyes show how much she loves to be a Peer Educator. Not only because she can be active in her community, but because she is an advocate for children and her peers. Her energy is transmitted in such a special way when she talks passionately about change for education of girls in her community.
Recently, Ela and 200 other Peer Educators were part of the Youth Conference, an annual event where all Peer Educators around Albania and Kosovo take part to share their experiences, present their work in schools and communities and learn new skills in their important mission as agents of change.
"What I liked mostly is learning new skills in advocacy. I liked how we can give a message in the community," she says smiling. "Advocacy in my opinion is taking one message to influence so many other people for better change." Her wisdom is far beyond her age.
Advocacy in my opinion is taking one message to influence so many other people for better change
PEs had the opportunity to learn new skills in the Child Protection area. They were encouraged to think about the barriers that they face in their community and then find solutions on where they can find help. Some of these issues in their opinion were: 'Discrimination, child abuse, violence at home, child labour, lack of tolerance, road safety, blood feuds and a low protection system of the laws.' Most PEs looked for help in their family, with their friends, in NGOs, and they were encouraged to find help with their school psychologists.
"There are many issues in our communities, starting from child labour to tolerance and peace," said Valentina, 13, from Kosovo. "I think that the biggest change is to respect children's rights, stop using children for labour and create opportunities for adults to work." 
  Another important point to learn during the conference for PEs was how to navigate safely on the internet and not become a victim of abuse during internet chatting. "A new thing that I learned in this conference is to be careful while using the internet and that we have a phone number in case we know of any case of child abuse in the area or if we ourselves have any problems, the 116 number in Albania," said Diamant, 17, from Librazhd. 
There are many issues in our communities, starting from child labour to tolerance and peace
PEs were also introduced to Child Protection Units and other ways of help available for children. "We would like to share these things that we have learned with our peers in schools and the community," said Elidona, 13, from Shkodra.
Some groups brainstormed in advocacy sessions on the main issues in their area and how to advocate for them. "Our group decided to find the causes of why our peers drop out of school," said Geno, 17, from Korça. "We found 2 causes and subcauses because of it. One cause was critical economical situation of the family where it includes child labour and unemployment of adults. The other cause was mentality where there are included early marriage and the mentality that girls should not continue education."
"The solution to the issues in our communities is advocacy," said Albana, 15, from the Kids for Peace clubs of Kosovo. "If all the peers in our schools, the community and even the town where we live continuously make campaigns for the rights of children, things would change little by little," she continues. Among the mosaic of new skills and things to learn, youth were introduced to Spiritual Nurture and children's rights through workshops. They were encouraged to identify when a child's right was denied through photos and how it should be. During the conference, children around all of World Vision's 10 Area Development Programmes and Kosovo's Kids for Peace project not only expressed their opinions, learned new skills to promote change, but also presented their work in a collage of powerpoint presentations, posters, banners and speeches prepared especially for this event. 
  While youth in Elbasan are being strong advocates for education, youth in Lezha have created a small but powerful group of protecting children's rights where they advocate for child protection. Youth in Korça are focusing in the spiritual growth of their peers; while in Tirana youth have advocated for anti-trafficking through their photos and had activities for children with different abilities. Other activities where the youth around Albania and Kosovo have taken part are raising awareness about HIV, tobacco and alcohol use, and about keeping the environment clean. 
  Through their work in the communities, these youth are also seeing changes within themselves. "Since I became a PE, I have so many ideas to help the children in my community. I have also realized that children really need our attention, help and love to grow up as they should," said Adonel from Librazhd, 16. The Youth Conference was an event that brought the Peer Educators together to learn from each other, share experiences, and create connections for further collaborations between them in the future. "We wish to continue our work and become part of more changes in the future," concludes Ela from Elbasan, smiling.