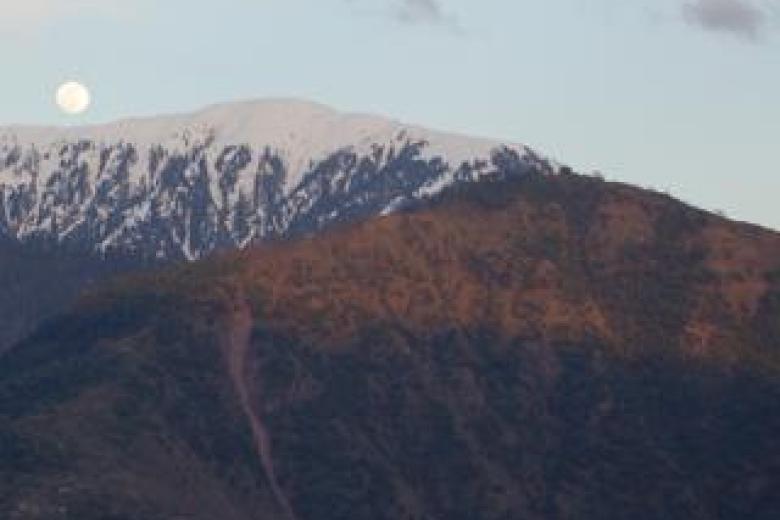 Praying for a small miracle
Thursday, August 10, 2006
The sun was high but the cold wind from the snowy mountains was soothing, while sitting on the mountain plateau following the grueling one-and-a-half hour hike from the village of Dandar to the community of Biari.

Yet for Kali Bibi, the mother of six, and thousands like her affected by Pakistan's October earthquake, there was no respite from trying to rebuild shattered lives.

We had been leading a very hard life even before the disaster but now everything has been taken from us "Thanks to God I had my sister Raishmaan, married in Mansehra, to whom I sent my three small children after the earthquake, otherwise they would not have survived the chill of winter," said Kali Bibi, 50, wearing a black head shawl sitting near her shelter, high above the Saraash valley in Pakistan's North West Frontier Province.

Kali Bibi was overjoyed to be reunited with her son Mohammad Riaz (12), daughters Dilshad Bibi (7) and Gulshad Bibi (5), after six months apart. But the worries for the future are clearly etched into the mother's face following that fateful day her husband died in the disaster and the life she and her children knew taken from them.

"It was the harvesting season of maize crop. My husband Mohammad Farid was in the house while I was working with my sons Mohammad Haroon and Mohammad Mukhtiar in the fields when the earthquake came. I saw my son Riaz and little daughters rushing towards me, and also saw my husband trapped under the debris of the house while trying to escape. It was like the end of the world," she said, gazing tearfully across the rugged mountain landscape.

"We had been leading a very hard life even before the disaster but now everything has been taken from us. Our houses and crops were destroyed, land ruined and cattle killed, and above all we lost our men," said Kali Bibi, while looking back on the row of garlanded graves where her husband Farid lies.

The trek moving up from Dandar to Batangi village and passing through Biari and Khadda to Laar for about seven to eight kilometres, seems marked every few hundred metres with fresh graves, illustrating the scale of tragedy.

Scenes of devastation are everywhere, framed against beautiful snowy peaks. There had been at least 180 scattered houses in lower and upper areas of Biari, all of them now razed to the ground with 20 people killed in October.

But their livelihoods and income have also gone.

Kali Bibi said: "I lost two buffaloes and a goat in the earthquake and I\'m now left with only one buffalo to provide milk and other dairy products to my family. But the greatest problem we face is that of clean water."

Bernard Mtonga, World Vision Livelihood Programme Manager said, "We are currently working in the Siran Valley, however, we are now exploring the same projects for restoration for the people in the Saraash Valley. Our first step will be to carry out an assessment survey to identify the actual needs of the people."

Saeen Mohammad in his 60s, a neighbour of Kali Bibi added: "We had the only source in Laar that supplied water to at least 520 households in village Biari, Batangi and Dandar," while pointing to the lofty peak covered with deodar trees in the high mountains.

"The earthquake has destroyed the water supply system, demolished the storage tanks and broken the pipelines. There was a storage tank after each 2,000 feet downhill," he said.

Indeed, there is only a single tap to supply some 5,000 people – and many have to walk several kilometres each day to fetch the essential commodity.

We are doing it on a self-help basis. We have tools and skills but not the pipes... Two old men, Mohammad Ismael and Waliur Rehman who had been accompanying us from Dandar on the marathon hike across the mountain pathways commented: "We are taking you to Laar to see with your own eyes the source of water which still exists for us. If only we could have the pipeline restored."

Before the quake there were five water points.

"We are left with nothing and struggling to survive. Without a hope even for the basic necessity like water, what future do we have in Saraash?" Kali Bib asked. "The earthquake has turned the whole world upside down. We also need to rebuild our homes, because we feel insecure in the temporary shelters. We need the rubble of our houses removed and our lands levelled for cultivation. We need oxen to plough and seeds to sow."

Passing through Batangi village a group of women was seen busy washing clothes with rainwater stored in a partially damaged storage tank. Sighting the strangers, they adjusted their veils to cover their faces and rushed away.

Some youngsters were busy repairing a broken pipeline near the storage tank.

One of them told us: "We are doing it on a self-help basis. We have tools and skills but not the pipes. If only we had pipes that cost no more than 100,000 rupees [approx US$1,666], we could restore the water supply for thousands of people down in Biari, Batangi and all areas of Dandar."

The need is acute since the return three weeks ago of families to the broken world they left in October to receive emergency aid in the tented encampments down in the valley below.

Now they pray for water.

They live in hope of a simple miracle: That their water supply can be restored before the heat of the summer takes hold.