Promoting girls education in Mozambique
Monday, March 5, 2012
By Antonio Matimbe
Ten years from now, Júlia Camilo Alberto says she'll be working as a nurse, helping the sick and needy.
Right now though, she's in Grade 9 and sharing a bedroom with four other girls at a boarding school in rural Mozambique.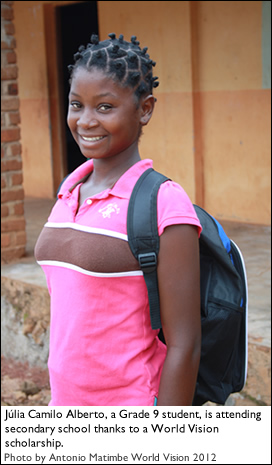 She's determined to beat the odds. Already, she's among a minority of girls her age. In Mozambique, only one in three girls completes Grade 5.
For Julia, it looked like her education would come to an end too when she finished primary school.
"When I finished Grade 7, three years ago, I did not know if I could follow with secondary school because my parents are farmers and they cannot afford to pay," Julia says.
What's more, the nearest secondary school was more than 20km from their home. It would have been very difficult to walk that far every day, Julia says.
Yet, opportunity arrived exactly when Julia needed it the most.
World Vision scholarship
"We received scholarship from World Vision and they also paid school boarding for us as we are far away from the secondary school," Julia says.
Since then, Julia continually dreams of that future, the one where she's a nurse. It's her ticket to help her parents and three younger brothers.
"Most of girls in my village after primary school they get pregnant and drop out from school and I don't want that for me," Julia says.
When asked about boys, Julia says not now.
"I want to study, get formed and then I will think of a man, because this is the way to help my family to look after my young brothers and get them educated as well," she says.
Julia is one of 35 children benefiting from a World Vision scholarship provided for orphan and vulnerable children to attend secondary school in her community.
World Vision's advocacy officer Gerson Nhancale says that a traditional practice called Muali, where girls who are 12 are celebrated for reaching adulthood, often dampens young women's ambitions.
Many girls finish primary school and start a family
"Children from age 12 feel like they are grown enough to have their own family. Girls get pregnant and most of the cases they drop out from school," Gerson says.
To help address this situation, World Vision has been promoting awareness campaigns on the importance of education.
"We focused especially on girls' education because they are confined to domestic duties like collecting water, cooking food for the family, washing clothes and working in the fields than attending school," says Azevedo Alves, a World Vision Development Programme manager. "The boys have some privileges when the issue is education and we want [to] change this way of thinking. All children must go to school."