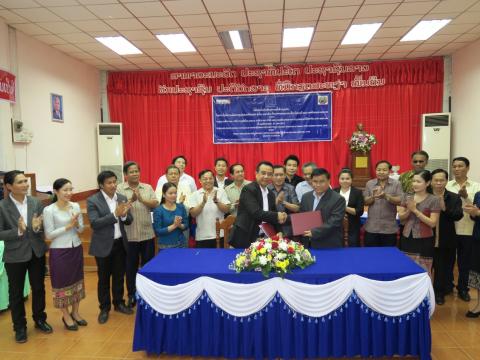 The Promotion of Participatory Community Development in Savannakhet Province
Tuesday, November 7, 2017
Represent by Provincial Agriculture and Forestry Department, Ministry of Agriculture and Forestry and Mr. Vibol Chap, Country Program Director, World Vision International in Lao PDR signed a Memorandum of Understanding (MoU) on 27th October 2017 for the implementation of The Promotion of Participatory Community Development in Phalanxay, Thapangthong and Xonnabuly District, Savannakhet Province. The MoU Signing Ceremony was held on 27th October 2017 in the Agriculture and Forestry Department in Savannakhet Province under chair of the Provincial vice Governor.
The Promotion of Participatory Community Development Project is a 1 year and 4 months led by the Government of Lao PDR and World Vision International Laos, with funding support from European Union, World Vision Finland and Australia. The project aims to increase the capacity of Village Development Committee to promote participatory in village development planning and implementation through small fund support via micro project which communities will design, consult and implement by themselves, including children, young people, man and women. The project is located in Phalanxay, Thapangthong and Xonnabuly District, Savannakhet Province. There are 5 target villages in each District, Savannakhet Province.
Under this project, WVI Lao PDR will work with partners to train communities on participatory development, strengthen village civil society groups such as VDCs, volunteers, women, children and youth through participatory and accessible development approaches and tools. Where these Village Development Committee are inactive or ineffective, WWI Lao PDR will facilitate the formation and strengthening of those Civil Society groups, where possible building on existing community structures. The strengthening, training and support to Civil Society groups will be critical for supporting knowledge dissemination and to support behaviour change relating to participatory developments and community cohesion.
Each target village will have the opportunity to develop micro-projects with maximum budget to 450 USD per village. It is expected these funds will be utilised for either one or combined micro projects within a village, where each local communities groups including vulnerable children and ethnic minority participates, consult, design and implement together. , The micro project aims to address their social and cultural rights related development priorities such as children's education.
And the Project also focus on the empowerment of children and young people through building capacity of teachers, village volunteers to support children participate in village development. The project will work with Village Development Committee to select child and youth leader to train on participatory development. Then children will develop their work-plan to promote participatory development and share their concerns with higher policy makers and related agencies." Said Mr. Vibol Chap, Country Program Director of World Vision International in Laos.
"This Project will be achieved through a partnership between World Vision, district government and Civil Society groups. We are very pleased to be able to support these project, and we look forward to learning and sharing our experiences with the other members and our government counterparts," said Mr. Vibol Chap.
For more information on this project or activities please contact Ms. Souksavanh PHASAVATH, Project Manager, World Vision International Lao PDR, Souksavanh_Phasavath@wvi.org, Telephone: 041 212 513 and Mobile Phone: 020 5406 8688.