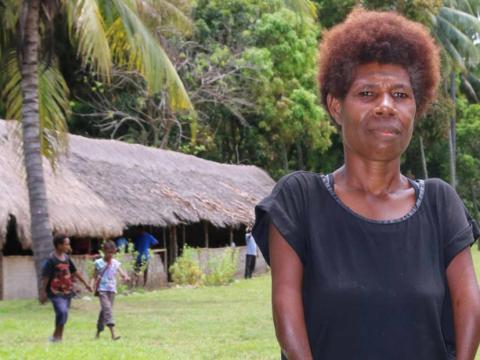 Pupi: An extraordinary mother
Wednesday, May 9th 2018
Mothers' Day falls on May 13 in Papua New Guinea.
It is a day to celebrate the important contribution of mothers to the lives of their children, families and their communities.
World Vision leads the Together for Education project (T4E) with NGO partners Child Fund, Library for all Australia, University of Canberra and the Consultative Implementation and Monitoring Council.
The project is also supported by the Governments of Australia and Papua New Guinea through the PNG Partnership Fund.
It aims to improve education for children in Papua New Guinea and is working with schools, communities, National, Provincial and District Education Departments as well as church run education agencies in the country.
During one of T4E's project outings early this year, field staff met an extraordinary mother from Markham in the Morobe Province while visiting the Ampan Elementary and Primary School.
Pupi Michael, 37, is a person living with a disability but that has not stopped her from accepting and owning her motherly responsibilities. She enjoys gardening, doing laundry and cooking like every other mother from her village.
Pupi from Sauruan in Kaiapit, Markham District of Morobe Province has been described as a tough woman.
Pupi gave birth to a beautiful daughter which she named Moro – Joyce. She has nursed her child with the support of her family and her child is now in Grade 3.
Moro – Joyce is everything to her mother, she is her pride.
"I love my child and I would do anything to give her the best", Pupi said when asked how important her daughter is to her.
Pupi's only concern each day is her child but that has not stopped her from taking part in other community activities and sports.
She has represented Morobe Province at the PNG Games in 2014 and in 2017; on both occasions she won medals.
In the 2014 Games, Pupi won two gold medals for the 100metres and 200 metre heats in Athletics and did so again in 2017 where she won two gold medals and a silver in soccer (also known as football in some countries)
She is an exceptional example for other women to follow.
Pupi is a single mother living with a disability, an active member of her community and an active sportswoman for her province.
Pupi said "I'm glad World Vision is now working with Ampan elementary and primary school because I really want my daughter to get the best education,"
She added "We have seen the result of World Vision's impact with the previous water and sanitation project and we are happy to work with World Vision again to see greater impact in our children's education."
World Vision values people and the stories that people have to tell, the life they go through and the struggles they face; it is through this that World Vision partners with other Non-Government Organisations (NGO's), Government Departments and other stakeholders in projects that will enable improvement in the lives of people.
The expected outcomes of these projects will have ripple effects that will positively impact and strengthen the next generation - the children.
The T4E project is ongoing and commenced in June of 2017; it is now in its implementation phase.