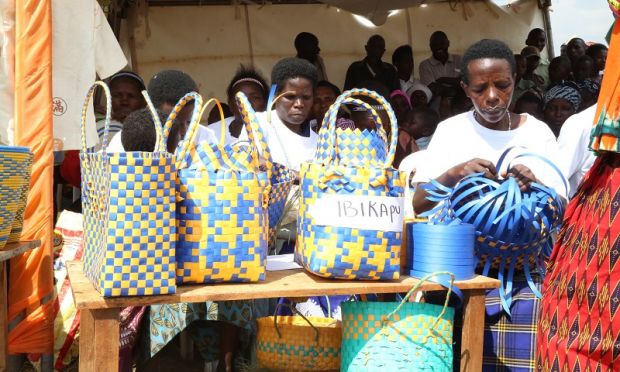 After 17 years of operating in the Sectors of Rushaki, Mukarange, and Shangasha in Gicumbi District, World Vision Rwanda (WV Rwanda) held a transition ceremony on 20 July, 2017 to celebrate the various accomplishments of Rushaki Area Programme (AP) throughout the years. Among the guests of honour at the ceremony were George Gitau, WV Rwanda's current National Director; Sean Kerrigan, WV Rwanda's incoming National Director; and Jean-Baptiste Kamate, World Vision International (WVI) Partnership Leader for Global Field Operations and former WV Rwanda National Director.
Through the activities of Rushaki AP, World Vision (WV) has provided much needed support throughout the last 17 years. For instance, 3,000 students were able to access education and complete their secondary studies; 478 classrooms were constructed and 2,000 desks distributed; 650 water tanks were distributed to families, and 5 health facilities were constructed.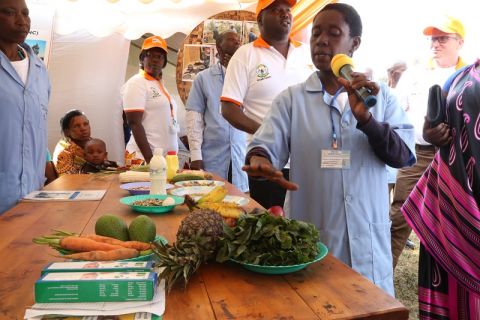 Dancila Nikobahoze, 38, is among those who received a cow from WV. This has transformed the life conditions of her and her entire family.
"Every day, I get 20 litres of milk from my cow. I sell part of the milk to buy food and pay for my children's school fees, and consume the other part with my family to maintain good health," she said.
As part of the ceremony, an exposition was held to showcase the numerous activities conducted by WV in the areas of Water, Sanitation, and Hygiene (WASH); Health; Education; and Livelihood Security. The ceremony was an occasion for visitors to appreciate the great impact of WV in the three districts that were covered by Rushaki AP.
David Nkurunziza, Vice-Mayor of Gicumbi District in charge of Good Governance, thanked WV Rwanda for bringing development and prosperity in the area and promised that the government will continue WV Rwanda's task; which is to improve the living conditions of the community in Gicumbi District.
George Gitau appreciated the good collaboration that has been going on between the Government of Rwanda and WV Rwanda towards the development effort.
"I thank the Rwandan Government –starting from His Excellency Paul Kagame down to the local authorities. They have instilled a sense of hard work in this community. Today, after 17 years, I am happy to witness how people have become resilient and empowered", he said.
The total cost of WV interventions in Rushaki AP throughout the last 17 years is estimated to have been US$17 million, with US$1 million spent each year.