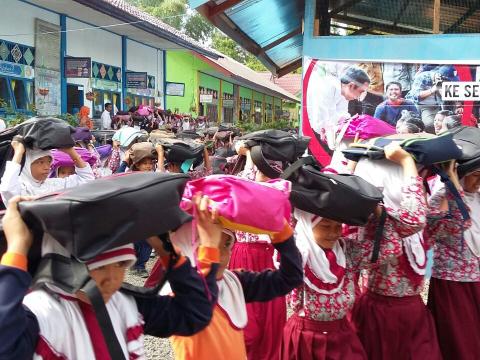 Safe School/Madrasah Program in Pidie Jaya
Friday, March 3, 2017
Wahana Visi Indonesia (WVI) present in Pidie Jaya, Aceh, for about three months in Aceh Earthquake Emergency Response. Safe school is one of many programs by WVI that meant to develop Pidie Jaya community members in disaster preparedness.
The preparedness starts from children in school. WVI is a humanitarian organization which focused on children and school is the place where children spent more than their half day besides their home.
Safe school aimed to prepare all school elements (headmaster, teachers and student) to be ready when the emergency occurred, especially earthquake.  It is intended to sustained and adopted in school curriculum and school construction plan.
Through the safe school program is expected to reduce the risk of children becoming victims of an earthquake. This is part of disaster risk reduction which runs by WVI in various areas, including in Aceh.