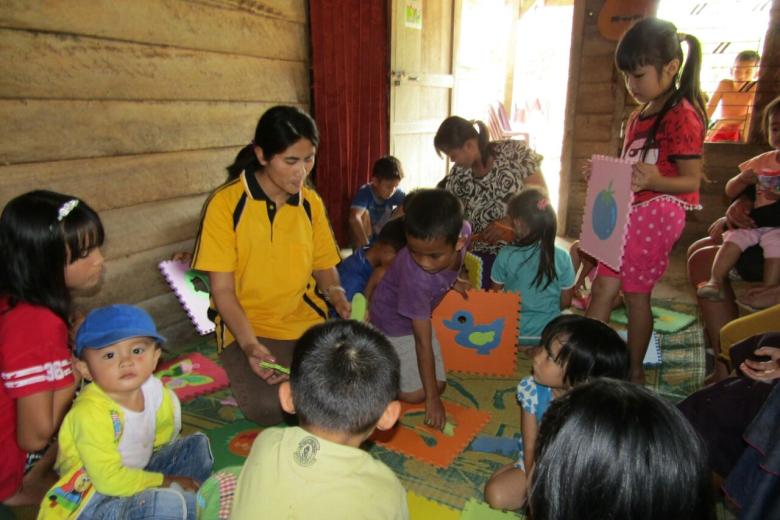 Samaeri, a gold in the north end of Nias island
Saturday, March 25, 2017
ECCD (Early Childhood Care and Development) is an early education towards to formal education for children ages 0-6 years old. The activities are intended to gives educational stimulant to help the growth and development of child's physical and spiritual. It is expected to children to be ready entering further education, both formal and informal.
The presence of ECCD in village is an amazing thing for child's progress, Samaeri for example. This ECCD located in one of Wahana Visi Indonesia's (WVI) assisted village in North Nias. As its meaning which is care, protect and educated, Sameri committed to support child's growth and development. Until now, more than 150 children has become part of Samaeri ECCD since it is opened in 2014.
For tutors, there are many up and down things in assists children in ECCD. However, they are still excited to improve the quality of children lives. They also patiently and diligently accompany children for two hours, three times a week.
"I am happy participated in ECCD activities, I can play and learn with friends," said Niren (6) with happy face. Niren is one of the beneficiaries of Samaeri ECCD.
 Community members' response about ECCD in the village quite diverse. Some support them, some not. "At first, community members were less enthusiastic with ECCD, they thought it only a daycare. However, after seeing the result of ECCD accompaniment, they desire to put their children in ECCD increased. As well as village government, they finally put the ECCD building construction in the village budget," said Masanolo Lahagu (37), one of ECCD tutor. He added, "Children who attend ECCD, usually have more comprehension and performance in primary school."
Head of Dahana Alas Village, Yuliana Lahagu (46) said, "ECCD helps child's development, after seeing changes in children, community member with village officials budgeted ECCD building in the village funds. This is our support for children and ECCD tutor who always make serious effort to improve our children."
Samaeri ECCD gets many support from society and village officials, ECCD is like a gold in the village, they are investment for the village to have a better future leaders. How about your ECCD? Hope it is better than Samaeri ECCD since ECCD is a golden way to help child growth and development.
Written by Dominiria Hulu (Monitoring, Evaluation and Learning Coordinator) dan Juniarman Hulu (Development Facilitator), Nias Operational office,