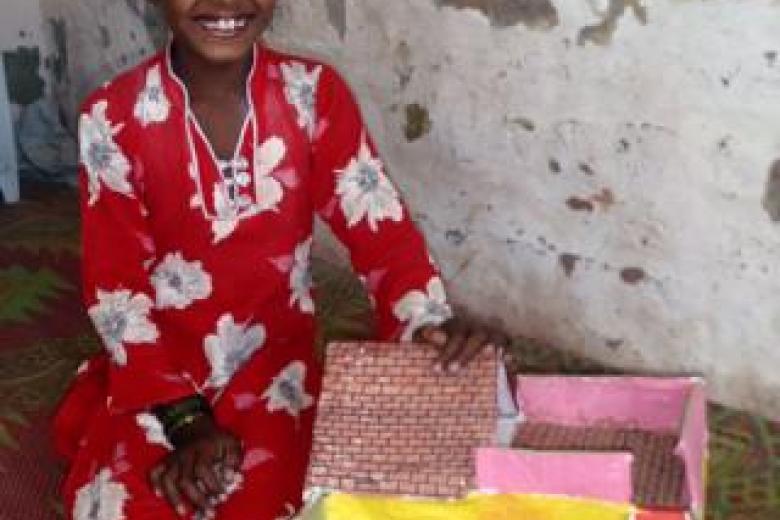 Sanam, 7, thrives on opportunity for education in flood-affected Sindh
Monday, November 28, 2011
PAKISTAN - Wearing a red Shalwar Kameez* with large white flowers, seven-year-old Sanam skillfully crafts her modest dream house out of cardboard. It's colourful like her clothing and even has a set of stairs leading to an upstairs balcony. Until recently, Sanam lived in a house similar to this one, until floods swept through the village of Abdullah Shah, destroying nearly everything in its path. Her village in Pannu Akil in Sindh province is still surrounded by water today.
Taking a break from her house construction inside World Vision's Child Protection Centre, Sanam recalls the first few weeks after her family was forced to flee their home with just the clothes on their backs.
"During all that time, I missed my home and was wondering when I would be able to return home. But when we finally returned home we only found the ruins of what used to be our house," she says.
With the opening of the Child Protection Centre my children are able to learn and play. They are happy again and love to go to the centre
Sanam continues, "When the floods came again this year, I was afraid that the Child Protection Centre would be swept away, but thanks to God it remained safe. I love to paint and play with the toys and have made many friends at the centre".
Sanam's mother, 40-year-old Ghulam Zahra, lost four fingers and most of her right hand as they fled the house, amidst falling steel beams. Her first thought was the safety of her five children.
Many families in Sindh were still recovering from the 2010 floods when torrential rains in early September triggered flooding for a second consecutive year. Twenty-one out of 23 districts in Sindh province were inundated with water. At least 5.4 million people have been affected, nearly 2.7 million of whom are children. More than 300,000 people were forced to leave their flooded homes in search of higher ground. While families are now beginning to return to their communities, many are left to fend for themselves along makeshift roadside camps, schools, or public buildings near their homes.
"We were hardly recovering from last year's flood destruction in which we lost everything; our three bedroom house, everything in it, our ready to harvest crops, three cows, two buffaloes- all were lost. All I could reconstruct was one room to provide shelter for my family, which has again been destroyed by the rains and flooding this year.
Now we live under the open sky under the rain and sun and are relying on outside assistance for shelter, food and protection from diseases," said Sanam's father, Naik Mohamamd, aged 55.
World Vision established Child Friendly Spaces (CFS) during the flood crisis in 2010 and again in 2011. These 'CFS' later became more permanent facilities known as 'Child Protection Centres'. 
Currently eight Child Protection Centres are operating in the three districts of Sindh (five in Sukkur district, two in Shikarpur and one in Khairpur district ). Five CFS continue to operate as separate spaces in Sindh.
Safe spaces for children, like this World Vision-supported Child Protection Centre where Sanam is constructing her house, are more crucial than ever to help children cope with the loss of their homes and routines and their sense of stability and normality.
"There is no school in our village, the nearest one being one and half kilometres away in Soomra, and even if there was one we would not have been able to send our children because we cannot afford to do so. With the opening of the Child Protection Centre my children are able to learn and play. They are happy again and love to go to the centre- it has helped them overcome the haunting memories of last year's flooding and it must continue," says Sanam's mother, Ghulam Zahra.
I was not aware about the health and hygiene practices before but after coming to this centre, I have learned that we should wash our hands before and after eating...
In addition to offering children a secure and friendly environment in which to play and learn through informal education, the Child Protection Centres are helping to raise awareness about health and hygiene and child rights, according to Jamal Khan, World Vision's Child Protection Coordinator in Sukkur. 
"I was not aware about the health and hygiene practices before but after coming to this centre, I have learned that we should wash our hands before and after eating, brush our teeth early in the morning, take a bath daily and cut our nails every week". "Now I keep myself neat and clean," says Sanam's 13- year-old sister Irshad.
Proper handwashing prevents the spread of bacterial diseases and diarrhea, which coupled with dehydration are responsible for much of the sickness and deaths recorded during and after emergencies like the Sindh flooding. 
Sanam is also a quick study and is learning about her rights through the United Nations Convention of the Rights of the Child. Reading proudly to visitors at the centre she recites, "A child has the right to education, good health and protection from child labor under article 54 of the CRC convention signed on 20th November 1989 which Pakistan ratified in November 1990……".
"I haven't been to a school but I've learned the English alphabet, numbers, drawing and so many poems in this centre… I like numbers and I want to be a Maths teacher," says Sanam with an endearing smile.
The needs of the flood-affected communities are vast and funding constraints are hampering relief efforts. With winter fast approaching, displaced people- especially children- will require the resources to prepare them for plummeting temperatures. Adequate shelter and protection are critical to protect families from acute respiratory tract infections and influenza, etc.
World Vision began work in Sindh after last year's flooding and this year responded quickly to the needs of flood-affected communities through shelter & non-food item packages for 1,675 households (including clean water purification tablets and buckets), Child Friendly Spaces, health consultations and distribution of food rations.
The organisation has assisted almost 90,000 people* in Sindh, as of 1 November 2011.
World Vision aims to target another 15,000 households in the coming weeks by providing tents and essential household items for 7,500 households, and support through ten mobile and static health units including nutrition screening.
These relief efforts are part of World Vision's broader goal to ensure all children enjoy good health, are educated for life and are cared for, protected and participating in their communities.
With more funding, many more children like Sanam will get the chance to play and fulfill their right to an education and reach their full potential. 
-Ends-
*Shalwar Kameez is the traditional Pakistani clothing with a long flowing shirt and loose trousers.
*Total Beneficiaries - 89,833 individuals, including Shelter & non-food items for 16,008 people, – 545 children involved in Child Friendly Spaces, 7,529 health consultations and food distributions to 70,501 people.