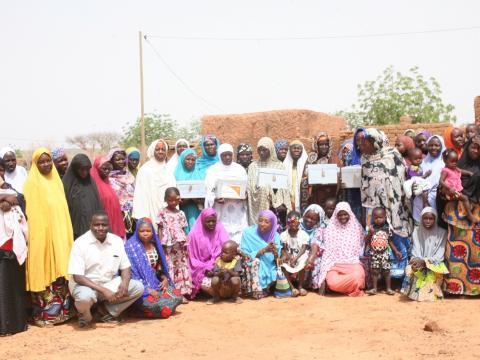 Savings Group Changes Lives in Niger
Monday, July 24, 2017
Written by Mouslim Sidi Mohamed
Located in the heart of the Tillabéri region in north-central Niger, Simiri is a rural community where agriculture and livestock herding are the main activities. The creation of a new savings group, sponsored by World Vision, has also meant improvements in the lives of dozens of women in the village.
For several years, World Vision Niger (WVN) has been working in Simiri to help build a better quality of life for children and their families through various activities, such as providing potable water, promoting sanitation and encouraging better hygiene practices. In addition to these numerous intervention, WVN has played a key role in forming savings and credit groups for the benefit of local women.   
The first such group was created in 2013 by a few women within the community and was named, "bani-bani" which literally means "peace." The group was made up of 35 women who received training from World Vision on how to save their own money and manage the combined funds to the benefit of the group's members.
Hamsa Abdou, a 44-year old mother of four childrenand leader of the group recalled, "Initially, the membership fee was 100 CFA francs (17 cents in U.S. dollars) per person per week but we encountered some difficulties at the beginning due to poor organization. When contribution money was received, we were forced to tie it to a handkerchief for safekeeping we did not have and know how to put it in a safe." 
According to Hamsa, WVN stepped in to support the group's efforts by providing savings boxes, recordbooks and further training for its leaders. She added that afterwards, the group organized weekly meetings   every Thursday and after three months, had its first share out of the contributed money. "The share out money we received coincided with the new school year and because of that we were able to buy our children all their school books and uniform. I never thought I could save CFA 50,000 one day in my life" Hamsa noted.
Hamsa added that before the savings group began, women used to engage in the traditional method of savings, where weekly contributions were made and given to local people in turns. However, they experienced several challenges due to the fact that members always flouted the rules and regulations.  Hamsa explained that in their "bani-bani" savings group, they had put mechanisms in place whereby one member keeps the savings box while other members keep the keys.  This prevented conflicts among group members and promoted transparency. Hamsa said that since the inception of the group, women have been more independent and this had led to the formation of about 20 more savings groups within the community.
"We no longer have to depend on our husbands for the upkeep of the family.  Thanks to the money we save, we have been able to start other income-generating activities such as soap and pomade making, preparing juice for sale in order to be able to provide for our children," she said with face lighted in smiles. "Our lives have changed completely. We are now able to afford nutritious meals for our children. Our children now have nice clothes and are very healthy because we pay more attention to hygiene and sanitation. All this could not have been possible without World Vision Niger."