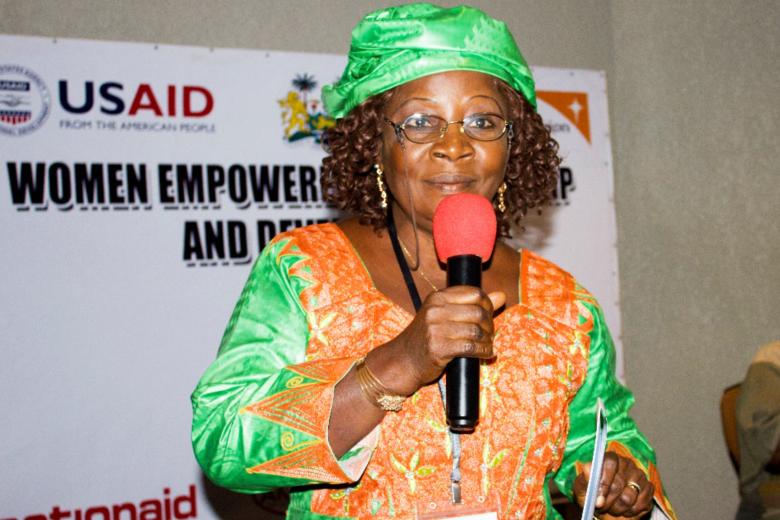 Savings group made me a member of Parliament: The story of a courageous woman.
Thursday, March 7, 2019
This is Honourable Josephine Makieu, she is a current member of parliament representing constituency 014 in Kenema district eastern Sierra Leone. Josephine is an epitome of success when women speaks of World Vision USAID sponsored Women Empowered for Leadership and Development [WELD] project. Savings group is a key component in the WELD project, thus many development partners use the savings groups approach to promote financial inclusion and empowerment often in the poorest and most rural communities. But in Sierra Leone World Vision used the saving groups to initiate and strengthening local economic activities. The model accounts for gender equity, increased family health, more children and youth attending and staying in school, increased knowledge of members on topics such as human rights and sustainable community development. The use of savings groups as a platform for women political empowerment has not been fully exploited, but has yield dividend.  Because of the WELD savings group Hon. Josephine Makieu was able to trounced seven male aspirants and emerge victorious in the March 2018 Parliamentary Elections in Sierra Leone. Hon Makieu acknowledges the support of savings groups women in her political journey. 
"I was motivated to aspire as a member of parliament by the suffering of my people. They have been deprived of social facilities like schools and hospitals for a long time. My desire was to work with them to construct these essential facilities. WELD trained and mobilized us to form a district female caucus. They also linked us to savings groups established by the project in our constituency. I was linked to Lowoma savings group in my constituency. 
This is a cluster of twelve savings groups with over two hundred female members. I shared my political ambition with the group and they accepted to support me whole heartedly. 
They organized 'pay to watch' football matches and dances and mobilized money for my campaigns. They also used their part of their social fund to print campaign materials such as T shirts and banners. They also moved from door to door to campaign for me thus increasing my popularity in the community". 
"I have reciprocated their gesture by constructing six classrooms in their community. I have also secured funding to construct a health facility. I will always be grateful to them". 
Among its West African neighbours, Sierra Leone ranks high on the United Nation's (UN's) Gender Inequality Index (GII). It ranks 150 out of 189 countries in the GII and 184 in the Human Development Index (HDI). Only 12.7% of seats in Sierra Leone parliament are held by women, and Hon. Josephine Makieu is amongst the few women who have braved the gridlock and occupied a seat in Sierra Leones highest law making body. Hon Makieu's success is a benchmark for development practitioners seeking to promote women political empowerment to consider savings groups as an important pathway for increasing women political participation. Savings groups provide a platform for women to nurture their leadership and political aspiration. The social networks and bonds in savings groups provide a platform for female aspirants to launch their political campaign and ascend to power.