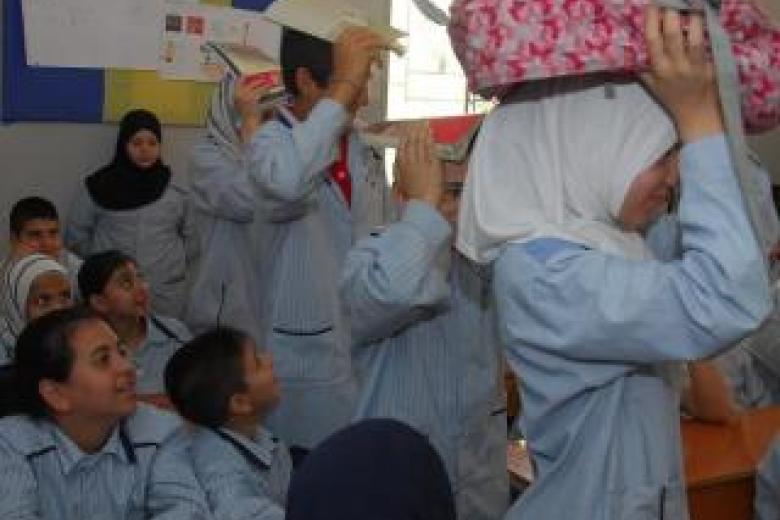 'Scary' verdict on Lebanon's disaster preparedness
Wednesday, April 13, 2011
World Vision's consultation went beyond a token gesture; rather, it provided a platform to enable communities to voice their opinions and develop action plans for their areas.
The results were scary...We had not realised the importance of preparedness
Some 250 people from local governance and communities in Beirut, Marjeyoun, Bint Jbail, Bsharreh, Akkar and the Bekaa participated in a survey that addressed progress towards key aspects of disaster risk reduction at the local level. Survey results and community-led action plans and recommendations are feeding into the "Views from the Frontline" project, led by a Global Network for Disaster Reduction of Civil Society Organisations, including World Vision.
"Being prepared is as important as responding to the disaster itself, if not more," said Hayat Fakhreddine, member of the Beirut local committee. "Each citizen can give in one way or another; our duty is to give them the opportunity to participate."
"The results were scary," said George Kiwan, from the Bekaa. "We had not realised the importance of preparedness; we have always been reactive to disasters that hit our villages like floods."
"We cannot work on disaster mitigation without the involvement of the local community," said Ali Chahla, from the Bekaa. "If for instance, a disaster strikes now, we might not know what to do, unlike other countries. There is no solid basis, and if it weren't for World Vision this whole concept would remain strange to us."
"Planning to mitigate disasters is crucial and this should be imprinted in people's minds and the government as well," said Siham Abou Jaoudeh, another committee member in Beirut. "Nothing can be done if the local community is not involved as it is the hand to implement, sensitize and monitor any law enforcement."
By engaging both community members and local government representatives, World Vision is initiating ongoing discussion on disaster preparedness and measures to reduce the burden of risk for those communities.
"It was reassuring to see such an active civil society that is willing to work towards making disaster risk reduction possible," said Sanaa Maalouf who facilitated the community consultation. "The interest and involvement generated was remarkable, especially in urban areas. People felt engaged in the work conducted and felt the urge to spread the word."
...if we are to see any change related to disaster risk reduction it has to reach right down to the grassroots
In 2009, the project evaluated Lebanon's readiness against the global Hyogo Framework for Disaster Risk Reduction. Of the 33 countries who participated in the project, Lebanon was placed third to last in terms of its level of readiness. Sensing the urgency, World Vision implemented a project where children and teachers took part in simulations and awareness sessions to learn about safe behaviours in emergencies, equipping them with the mindset and tools to better cope with the consequences and impact of disasters.
"Views from the Frontline has allowed us to bring the voices of community members to the highest levels of the Lebanese government to let them know that this is an issue of concern and that if we are to see any change related to disaster risk reduction it has to reach right down to the grassroots," said Lindsay Gladding, World Vision's Humanitarian and Emergency Manager. "It is not enough for national policies to exist."
From floods to earthquakes to conflict, Lebanon faces a host of disaster threats. Without coordinated plans to mitigate and reduce the risks to these threats and explicit plans on how to respond in case of an emergency, Lebanon will remain unprepared and unable to protect the most vulnerable, particularly children.